Carroll College Celebrates 108th Commencement
HELENA, MONT. - On Saturday, May 12, 2018, Carroll College (Helena, Montana) conferred degrees on 298 graduates during its 108th commencement ceremony held in the Carroll College PE Center. The ceremony included a number of awards and honors for students, alumni, and faculty.
Associate Professor of Psychology Dr. Leslie Angel provided remarks during the ceremony. Dr. Angel was the recipient of the 2017 Outstanding Teaching Award.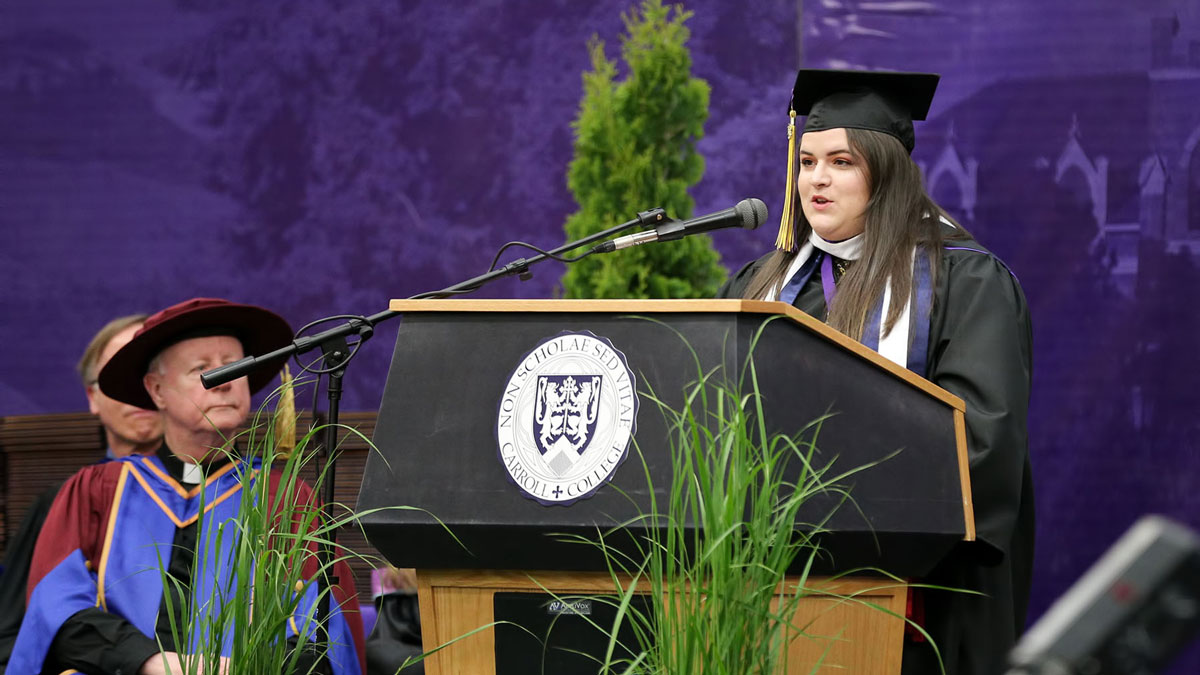 The class of 2018 senior speaker was Rebecca Poliquin from Hamilton, Montana. Becca graduated with a double major in history and theology. During her four years at Carroll, she was an active member of the Talking Saints forensics team where she participated in both speech events and British Parliamentary Debate. Her post-college plans include the Peace Corps and graduate work in history.
The Michael Murphy Award for Outstanding Collegiate Citizenship was presented to Elisabeth "Lizzy" Younce. Younce from Pullman, Washington, majored in mathematics with a concentration in foreign language for business applications. At Carroll she demonstrated the servant leadership model with a strong work ethic and a compassion for helping others. She served as a peer minister with Campus Ministry, traveled with Engineers Without Borders and was elected as an executive officer and class senator for the Associated Students of Carroll College.
The college's Bishop Gilmore Memorial Award for Outstanding Scholarship, awarded to seniors who have attained the highest grade-point average after four years at Carroll, was awarded to five graduates: Maria Carparelli of Helena, Mont., Jaylin Kenney of Polson, Mont., Matthew McHugh of Missoula, Mont., Sierra Ross of Helena, Mont., and Kyle Steiger of Pompeys Pillar, Mont.
Two annual faculty awards were also conferred. The Outstanding Teaching Award recipient was Dr. Caroline Pharr, associate professor of chemistry, who fosters close faculty-student interactions, supports and enables undergraduate research, and encourages and exercises diverse and active learning practices in her classes. The Distinguished Scholar Award was awarded to Dr. Jessica McManus, assistant professor of psychology, for pursuing an active research program and enriching the undergraduate research experience in her department by offering independent studies in social psychology and advising student research teams on a variety of projects.
Carroll College also announced that three retiring faculty members, Professor of French Nathalie Caulliez, Professor of Business Bethalee Schoyen and Professor of Education Lynette Zuroff have been conferred the title of professor emerita for having served the college long and with distinction.
Carroll College is a private, Catholic, liberal arts and pre-professional college in Montana's capital city of Helena. Carroll College has earned top national and regional awards for its academic programs, professors and extraordinary tuition value. For seven years in a row, Carroll has been ranked as the number one regional college in the West by U.S. News & World Report. www.carroll.edu.