Mission and Catholic Identity
Cultivating Knowledge and Virtue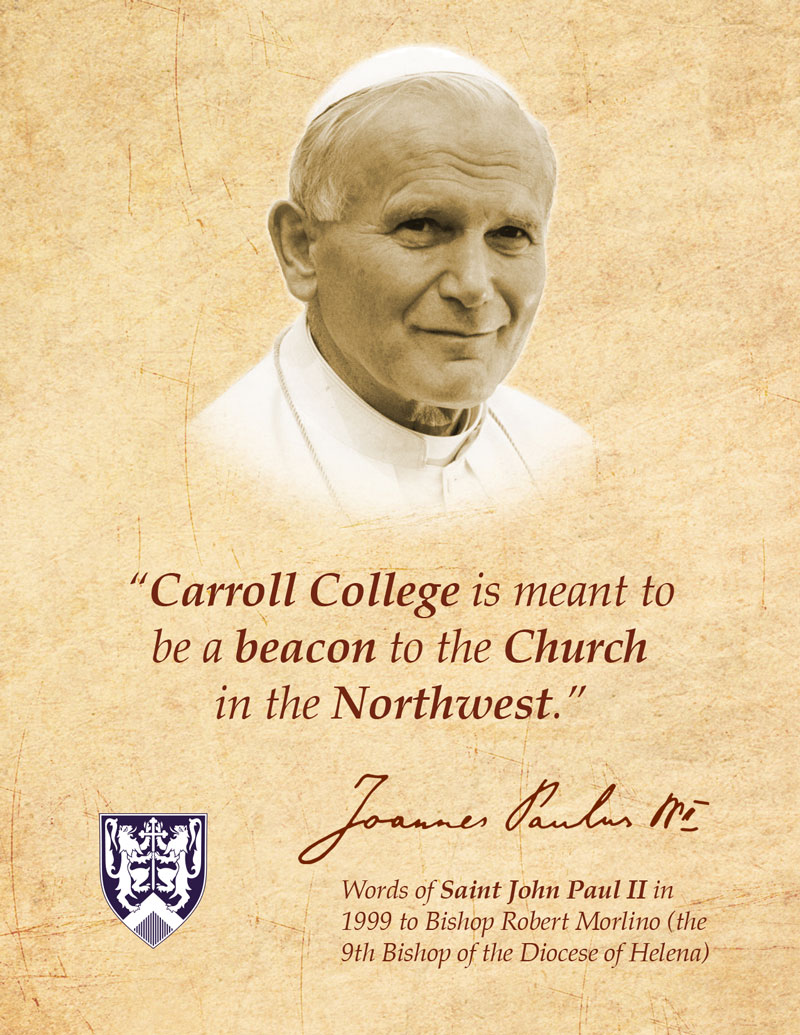 At the laying of the cornerstone of what he then called "Capitol Hill College," Bishop John Carroll declared, "Knowledge and virtue are the armor with which Capitol Hill College shall strive to equip its students." With these words Bishop Carroll dedicated the site where St. Charles Hall would soon stand: the centerpiece of the college he visioned and built and that would one day bear his name.
From its inception Carroll College has aspired to produce students with "strong minds, great hearts, true faith, and ready hands" (Carroll College 1930 yearbook). For over one hundred years, it has challenged its students to undertake rigorous academic studies informed by the Catholic faith and in service to the local community and beyond.
Alumni Reflections on their Carroll College Experiences
My time at Carroll provided the seeds for creating a life that would be built on sound Christian principles and a desire to make the most of whatever I did.  It was a rich experience that continued to unfold each day.
This college has made a huge impact on my faith.
Carroll prepared me for a fantastic journey in life.  It taught me a hard work ethic, strong Catholic principles, and a giving attitude.
This is where my faith actually grew!
Carroll inculcated a social conscience and inspired me to pursue a life of service to God, our beloved environment, and our fellow human beings, especially those in need.
I became more alive in my faith in the environment that Carroll offers.
Past Presidents Reflect on their Carroll College Experiences
"I know that God lives on Carroll's campus, but maybe it's more tangible here. Without knowing it, without saying it, without speaking about it, students, faculty and staff are just more aware of that reality. And that's a great gift." - Archbishop Raymond G. Hunthausen (Carroll president, 1957-62)
"But suppose that we were to make Carroll profoundly better than ever, with the love that Christ told us to show? We could set as a goal really to try every day to be kind, to be friendly, to be helpful—to be such a place and to be such persons that the world can speak of us as the world spoke of Christ's early followers: Behold those Carroll people; see how they love one another." - Dr. Francis J. Kerins (Carroll president, 1974-89)