Cindy Moore, Customer Servant
Cindy Moore, custodian, receives a 2022 Customer Servant Award
Thursday, December 15, 2022
Cindy Moore, Customer Servant
Custodian in Guadalupe Hall
"Acceptance of the person requires a tolerance of imperfection."
Cindy has been involved on Carroll College's campus for multiple generations of students. She has dedicated many of them in fostering a fun and healthy environment in Guadalupe Hall for both first year and the older students who held Resident Assistant and Peer Minister positions. The dedication to stay in one of the most interesting dormitory halls on campus comes with its challenges, but she has kept a strong and positive focus in her work and her relationships with everyone who lives there.
One student said that Cindy is "always so kind when she is cleaning the bathrooms and takes breaks from working to have a conversation with you and asks how you are doing." They add that oftentimes "she was laughing and making jokes just trying to make someone else's day and she was always putting a smile on my face."
Actions like this make Guadalupe Hall what it is, a comfortable and welcoming place to begin our college experience - a place full of "imperfections" Cindy chooses to forgive. Without a kind word or smile, many students would miss out on the human connection and larger culture at Carroll. Without Cindy, these moments in our lives would have been less inviting.
"Love is an undefinable term… unlimited liability! As soon as one's liability for another is qualified to any degree, love is diminished by that much."
Additionally, a Peer Minister from this year mentioned that Cindy "draws and colors cool pictures and diagrams for all of the Guadalupe Hall Resident Assistants and Peer Ministers to hang outside their doors." Another student remarked that "Cindy has pizza parties for everyone in Guadalupe to come to and… brings enough for everyone and then some."
These acts of service are continuous and reflect a person who will make time in their busy day to help someone feel better, create a fun and healthy environment – no small feat when dealing with first year students..
We students have spent the semester studying the principles of customer service through organizational case studies and we, the Servant Leadership class of 2022, are proud to honor Cindy Moore as an exemplary Customer Servant.
Cindy, thank you for all that you do for us all, seen and unseen.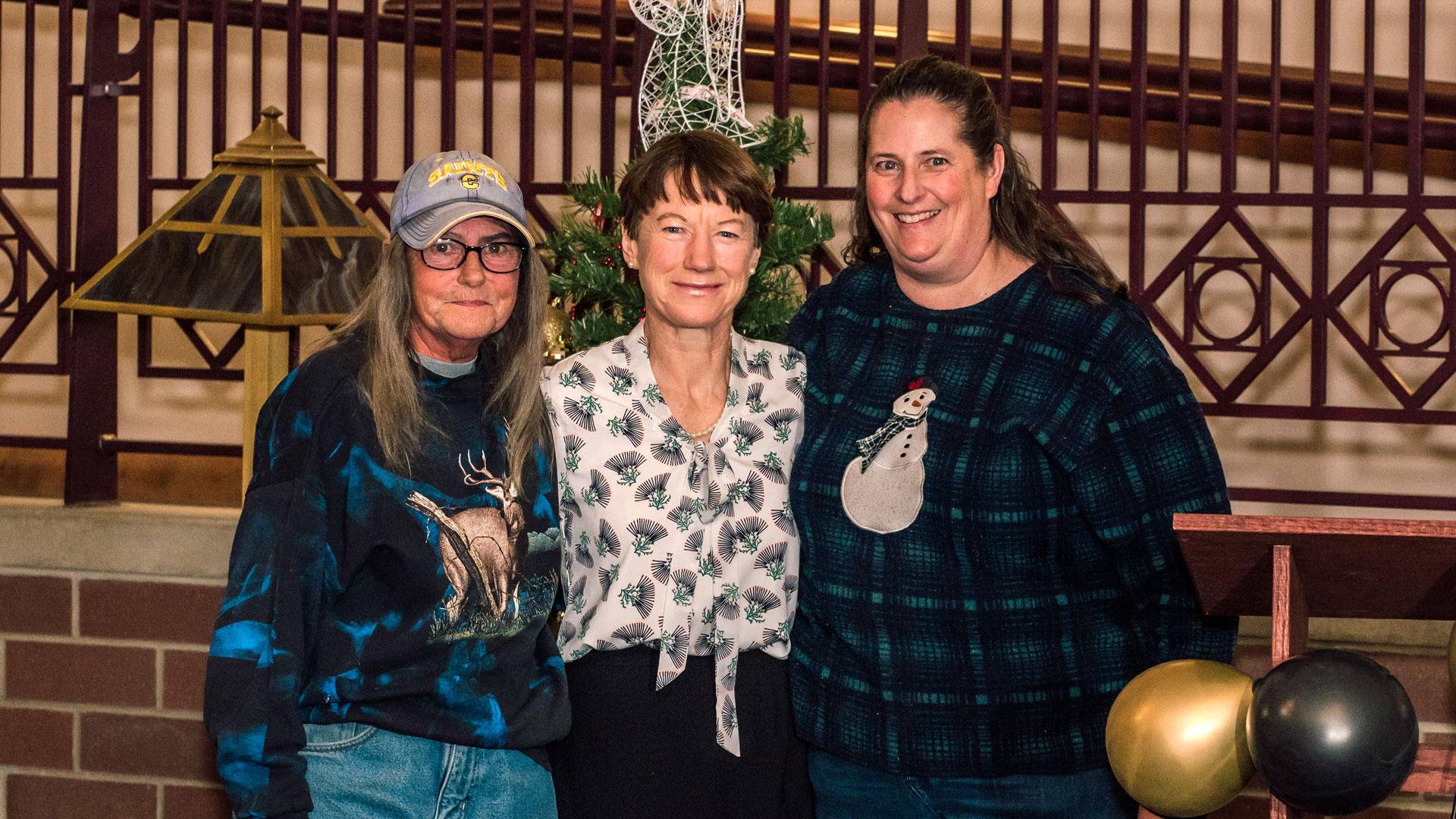 Cindy Moore, Claire O'Malley, and Allison Sever receive 2022 Carroll College Customer Servant Awards