Taking Applications for Spring 2024
Carroll College still has openings for students hoping to transfer in the Spring of 2024. Applicants can expect an admission decision within 2-3 weeks and still have access to full scholarship packages.
Contact our Admission Office at admission@carroll.edu to set up a tour, learn about what credits will transfer, create a degree plan, and become a Saint.
The Top Transfer School in Montana!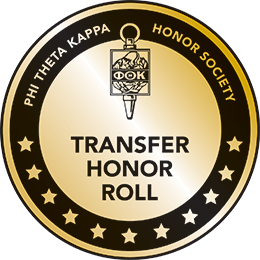 The Phi Theta Kappa (PTK) Honor Society has named Carroll College to its 2023 Transfer Honor Roll, which identifies the top four-year colleges and universities, creating dynamic pathways to support transfer students. Carroll was one of 112 colleges and universities awarded this distinction nationwide and the only institution from Montana.
Continuing your collegiate journey
Carroll is committed to making your transfer experience to Carroll as smooth and streamlined as possible. We also commit to affordability and value to help you reach your goals. 
Please note that students who take any college credits as part of their high school curriculum are not considered transfer students;  they are considered to be first-year students with advanced standing credits. 
Transfer Application Checklist and Deadlines
Application Checklist
Submit the Carroll Application  or the Common Application
Submit transcripts from ALL institutions attended after high school graduation (unofficial transcripts in PDF accepted for admission consideration, but final, official transcripts are required for posting transfer credit)
A letter of recommendation can be submitted, but it is not required
Submit your FAFSA to 002526
Application Deadlines
For admission in the fall semester:
Regular Decision Deadline: June 15
Rolling Admission: August 1
Nursing (fall entrance only) application deadline:  May 1 (please see the transfer nursing page for more details on how to apply for nursing and the pre-requisites required for admission consideration)
Class registration begins in April.  You must be a deposited student to start this process. Once you have deposited, an Accedemic Questionaire (AQ) will be emailed to you. After you have completed the AQ. Please sign up to participate in one of our registration events. 
For admission in the spring semester:
Regular Decision Deadline: November 15
Rolling Admission: December 1
Class registration begins in early December 
Transfer of Credits Policy
One of the most important considerations for transfer students is knowing what credits will transfer to Carroll. We accept up to 62 lower division semester credits (93 quarter credits) from regionally accredited colleges and universities, as long as you've earned a C- or better in 100-level (or higher) college courses.  Carroll can transfer up to two semester credits of physical education courses.  We're happy to take a look at your official or unofficial  transcripts after you have completed the application process to provide more information about how long it might take to finish your degree at Carroll.   Please note that students taking dual enrollment credits during high school are not considered to be transfer students, but the transfer of credits policy remains the same.  
Transfer Inquiries
Carroll College is committed to ensuring equal opportunity for all persons and does not discriminate on the basis of sex, race, religion, sexual orientation, marital status, veteran status, national origin, or ethnic origin. No qualified individual is excluded from admission or participation in any educational program, activity, or facility by reason of disability, providing the individual can properly perform with reasonable accommodation.