Kim's moment.
Kim Johnson made a choice to leave a 20-year career to pursue a new goal: becoming a nurse. She juggles family and school while earning her degree in Carroll's rigorous and holistic Nursing Program. She sat down with local news KTVH-TV for a segment where she said,
I do feel blessed. I really feel called to be a nurse. I am so thankful for this process. And I'm really hoping I can impact someone when I become a nurse, in a positive way.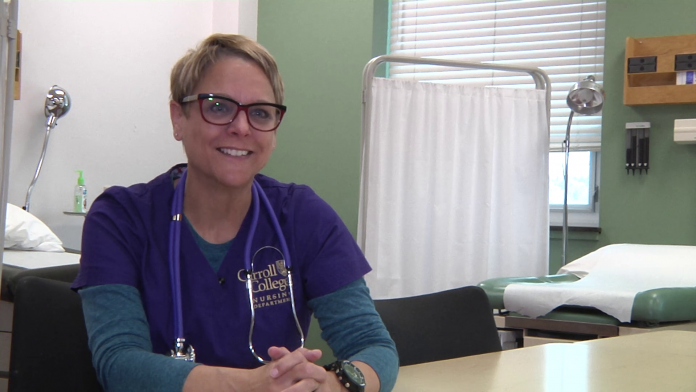 After the story aired, Johnson said, Thank you to my professors at Carroll who have taught me so much, whether it's Bioethics or Microbiology, Renaissance History or Theology. I have enjoyed all of my classes thoroughly. Thank you to Carroll College for the amazing scholarships and grants. I could not do this without them. Thank you to my fellow students who are so encouraging and friendly. You make my day go around. A special thank you to my nursing professors who daily assist my journey towards my BSN-RN and my goal of hospice nursing. And thank you, mostly, to my family: I could not make it without your support and understanding. I love you all.