A Great Setting
Surrounded by epic views of unspoiled wilderness, the Carroll College campus offers a marvelous setting for conferences, retreats, board meetings, workshops, weddings, family reunions or just about any gathering. The state capital, Helena nestles in the heart of southwestern Montana's beautiful Rocky Mountains. Just a few miles from the Continental Divide and the headwaters of the Missouri River, Helena is located about halfway between Glacier and Yellowstone National Parks.
Meeting Facilities
Carroll College offers a wide variety of space available for conferences, meetings, or other activities. Rooms include classrooms, conference rooms, banquet space, and dorm housing (during June and July). We offer many modern amenities, including sound systems, wireless Internet access, projection screens, and a variety of audio/visual equipment.
Known as the "Cube" by our students, the Carroll Campus Center has everything you need in one location. From great conference rooms, a dining hall, a coffee shop, a high-tech theatre, and much, much more. Here's a map of our two-story campus center.
Housing Facilities
Carroll lodging is available during the summer break -- June and July. Carroll lodging costs a fraction of the price of a hotel room. If your group operates on a strict budget, or if you always seek the best deal, consider housing on campus.
Trinity Hall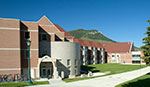 Suite-style living in Trinity Hall accommodates guests with private bedrooms, cheery central living space and convenient kitchenettes. These rooms include air conditioning. Whatever your group's size, we can lodge them all—rent a few rooms or the entire 180-bed facility. More about Trinity Hall
St. Charles and Guadalupe Halls

For the extra thrifty or for very large groups, our traditional residence halls offer lower cost housing with single or double rooms and shared bathrooms. Some guests enjoy the college-like atmosphere of these halls. More about St. Charles Hall | More about Guadalupe Hall
Catering Services
Catering is provided by our in-house dining services company, Sodexo, Inc. We offer one-stop shopping for your next banquet, reception or dinner event. From light hors d'oeuvres and dessert parties to carved prime rib and full sit-down dinners, simply customize your event through Carroll Conference Services. Details about banquet services are available upon request. Find out more information about Sodexo's catering services on the Carroll College campus at their website.
Contact Carroll Conference Services
Kate Hogan
Conference Services – Carroll College
T: 406-447-5418
conferencing@carroll.edu