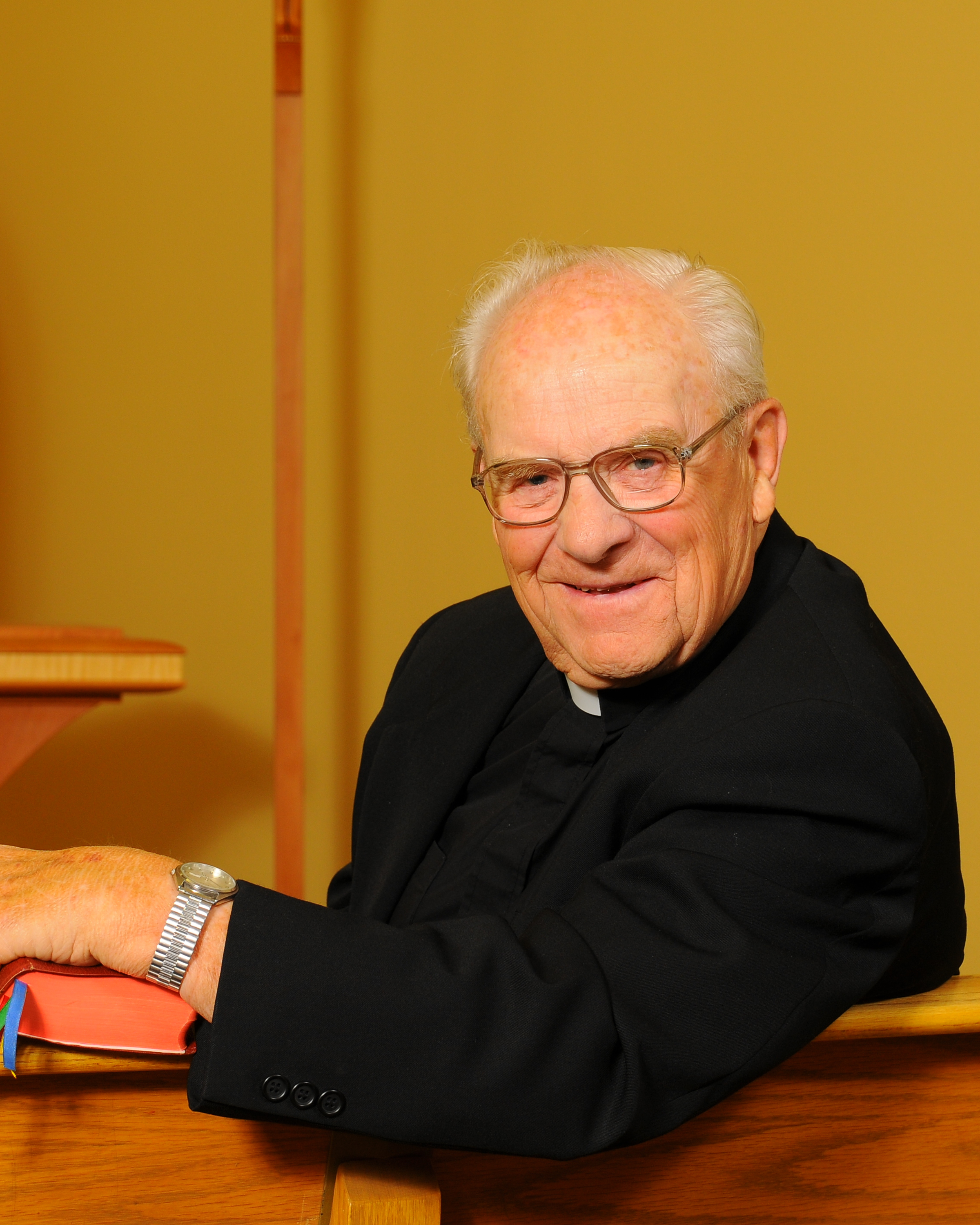 Archbishop Raymond G. Hunthausen
The oldest of seven children, Raymond Hunthausen was born in Anaconda, Montana, to Anthony Gerhardt and Edna Marie (née Tuchscherer) Hunthausen.  He studied chemistry at Carroll College and graduated cum laude in 1943.  He then entered the seminary and was ordained in 1946.  He would later pursue a Master's degree at the University of Notre Dame.
From 1946 to 1957 Fr. Hunthausen was as an assistant professor of chemistry at Carroll College.  He also served as football and basketball coach during the last four years of that period.  In 1957 he was appointed the president of Carroll College. He was thirty-five years old: the youngest president in Carroll's history then and now.
In 1962 Saint John XXIII appointed him to succeed Bishop Joseph Gilmore as the sixth bishop of Helena.  Within months of his ordination as bishop, he was summoned to Rome for the convening of the Second Vatican Council.  He was a council father at all four sessions of the Council.  He was the newest and youngest American bishop at the start of the Council.
His tenure as Bishop was marked by increased lay involvement in church matters, the establishment of a mission in Guatemala, and an enthusiastic implementation of the Second Vatican Council.
In 1975 he was appointed the Archbishop of Seattle by Pope Paul VI.  As archbishop he embraced the challenges of the post-Vatican II Church.  Known for his strong stances on peace and justice, Archbishop Hunthausen's leadership emphasized quality pastoral care for the people of the archdiocese.  His dedication to inclusiveness brought the archdiocese into a new era marked by bold strides in ecumenism and multiculturalism.
He retired as Archbishop of Seattle on August 21, 1991.  At the time of his passing in 2018, the Arhbishop was remembered for his gentle humility and a faith deeply-rooted to his love for Montana and its beautiful landscapes.  He said, "There's an openness, a sense of freedom, a sense of wonder in this land, especially in the springtime. I don't have any difficulty in saying that that has contributed to who I am."
To most he is known as Archbishop Hunthausen, but to me, he is simply 'Dutch.' Dutch served Carroll College first as a fun-loving student, then later as athletic director, professor, and finally as president. With his incredible story-telling abilities, Dutch can usually be found at family reunions describing some of his fondest memories, many of which took place at Carroll College.  I have learned all the secrets of life just by listening to Dutch's calming, steady voice while he delivered homilies to my countless relatives.  Life according to Dutch is about being a high-spirited, yet humble, peace keeper; maintaining strong family ties; respecting all people; caring and unconditionally loving your neighbor; and being generous with what God gives you. He is a man with bright, compassionate eyes and an uncanny ability of whittling a reed into a whistle. Many lives, including mine, have been blessed by my Great-Uncle, Dutch."  - Lauren Miller (Class of 2012)