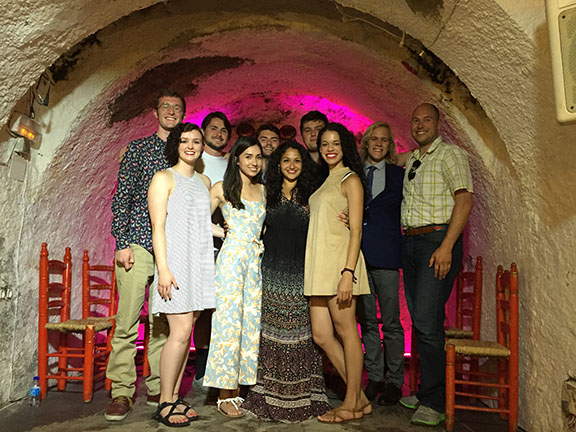 Nine Carroll students plus their professor got a quick jump on their summer travels with a 28-day study abroad experience to the beautiful Spanish city of Seville, Spain.
The students, Nathan Boone, Cierra Powell, Baird Linke, Braxton Hudson, Alec Basterrechea, Katie Perrigot, Corbin Arbizanni, Monica Mendoza, Daniela Rosales, along with Dr. Ryan Hallows, assistant professor in the Department of Languages and Literature, traveled to Spain between May 18 and June 15, 2016 for a custom program catered by ISA (International Studies Abroad).
They visited Madrid, Córdoba, Toledo, Granada, Cádiz in addition to their home-stays in Seville. Students participated in an intensive Andalusian Cultural Studies course at our Carroll College Seville site with Dr. Hallows as well as participated in activities and excursions to major historical sites including the Prado Museum in Madrid, the Mosque in Córdoba, the Cathedral of Seville and the Alhambra in Granada. Students kept blogs about their studies, travels and relationships throughout the trip (in Spanish) which can be found here.