Northup Honored for Role in Irish Debate Tour of America
Friday, February 26, 2016
Professor Brent Northup, coach of the Talking Saints, served as a judge in the Irish Times national debate championship held February 19 at the Royal College of Surgeons in Dublin. The topic of the debate was the 100th anniversary of Easter Rising, the armed revolution in Dublin in 1916 that accelerated the movement towards Irish independence from Britain.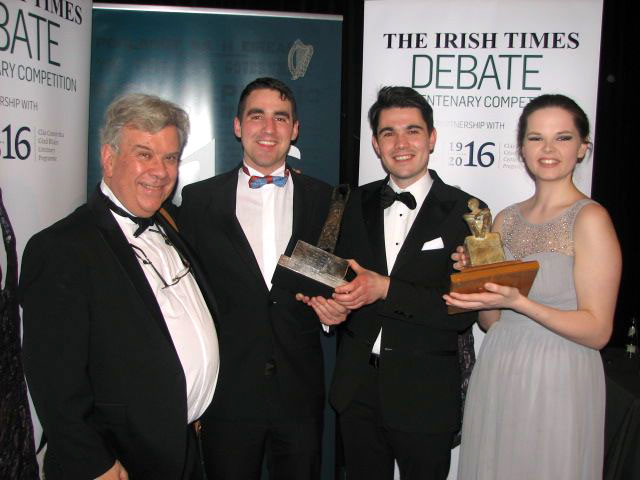 The Royal College of Surgeons was actually the scene of fighting during the Easter Rising and one of the three winners, Clíodhna Ní Chéileachair, is the granddaughter of a man who fought in the Rising.
The team winners were Ross O'Mahony and Aaron Vickery from the Solicitors' Apprentice Debating Society of Ireland, which educates barristers.
Northup coordinates the Irish Tour of America for the three Irish champions, which begins at the St. Patty's Day parade in New York, continues to Los Angeles and includes a stop in Helena for a debate at Carroll on immigration on March 30.
At the banquet after the debate Northup was honored for organizing the Irish Tour for the past 16 years and was presented with a painting of Easter Rising by a former Irish champion debater. Since the championship fell on Northup's 70th birthday, the crowd sang happy birthday and presented Northup with a cake.
The painting honors Constance Markievicz and other women who took up arms in the Easter Rising. Lieutenant Constance Markievicz was sentenced to death for her role in the rising, but avoided execution because she was a woman.
Markievicz is famous for her fiery rhetoric.
"Dress suitably in short skirts and strong boots, leave your jewels in the bank, and buy a revolver, " Lt. Markievicz once implored.
"The whole country is commemorating the Easter Rising culminating in special events around Easter," said Northup. "It was very special to be in Ireland during this historic time."
And the birthday greeting was welcome, too.
"It was quite a wonderful evening," said Northup. "A birthday like none other."
The Irish Times covered the debate final - Pro-1916 event competitors win Irish Times Debate grand final.