Carroll Receives 4th Largest Single Gift from Simperman '62
Carroll College Receives 4th Largest Single Gift from Alumnus Roy Simperman '62
HELENA – Carroll College is pleased to announce that Mr. Roy Simperman, a Carroll class of 1962 graduate and Chairman and CEO of Semaphore Corporation, and his wife Frances, have designated to the college a gift of over $2.3 million to fund continued renovations of the Jack and Sallie Corette Library and Simperman Learning Commons. With this donation, the Simpermans have provided Carroll with the 4th largest single gift in the history of the college.
"This is an incredible gift for Carroll College," said Dr. John Cech, president of Carroll College. "Thanks to the generosity of the Simpermans, the college will be able to complete the transformation of the library into a center for collaboration and innovation that integrates highly sophisticated technology into all aspects of scholarship and student experience.
"We are so grateful to Roy and Frances, without whom the library transformations would not be possible. The impacts of their gift will support Carroll's liberal arts foundation and serve Carroll students for generations to come and will enhance the overall appearance of our thriving campus."
The Simpermans have been instrumental in providing the resources to lead the way for the transformation of the Corette Library into a campus learning commons essential to the academic experience of Carroll's students. This gift is in addition to the over $1.9 million already provided by the Simpermans to fund the initial renovation of the 40-year-old library into a state-of-the-art resource and study center renamed the Jack and Sallie Corette Library and Simperman Learning Commons.
"We are absolutely thrilled that this project can finally move forward and to completion," said Roy Simperman. "We are deeply committed to the mission of Carroll College and believe strongly in the value Carroll graduates bring to the world. Our hope is that this gift inspires others to act philanthropically and support Catholic education at Carroll College and around the world. Now more than ever we must be thinking and taking action to establish a strong liberal arts Catholic education. By creating a space on campus that both addresses the rapidly evolving technological and academic needs of students while also providing an appealing space for fellowship and community, the Jack and Sallie Corette Library and Simperman Learning Commons helps demonstrate Carroll's commitment to intellectual and personal excellence."
The renovation of the lower level of the library, completed in 2019, includes both collaborative work settings and individual study spaces, cutting-edge technological capabilities incorporated into the creation of the Center for Professional Communication, and remodeled archival space. This modernized area of the library has proven to be very popular among students and complements the additional enhancements completed in the library in 2014 which were highlighted by the creation of the Sandbox, a state-of-the-art interactive and collaborative learning space, and the Sage Room, a technology-enhanced auditorium-style classroom.
Concept Drawings
See the concept drawings of the new, cutting-edge Jack and Sallie Corette Library and Simperman Learning Commons.
Our hope is that this gift inspires others to act philanthropically and support Catholic education at Carroll College and around the world. - Roy Simperman, '62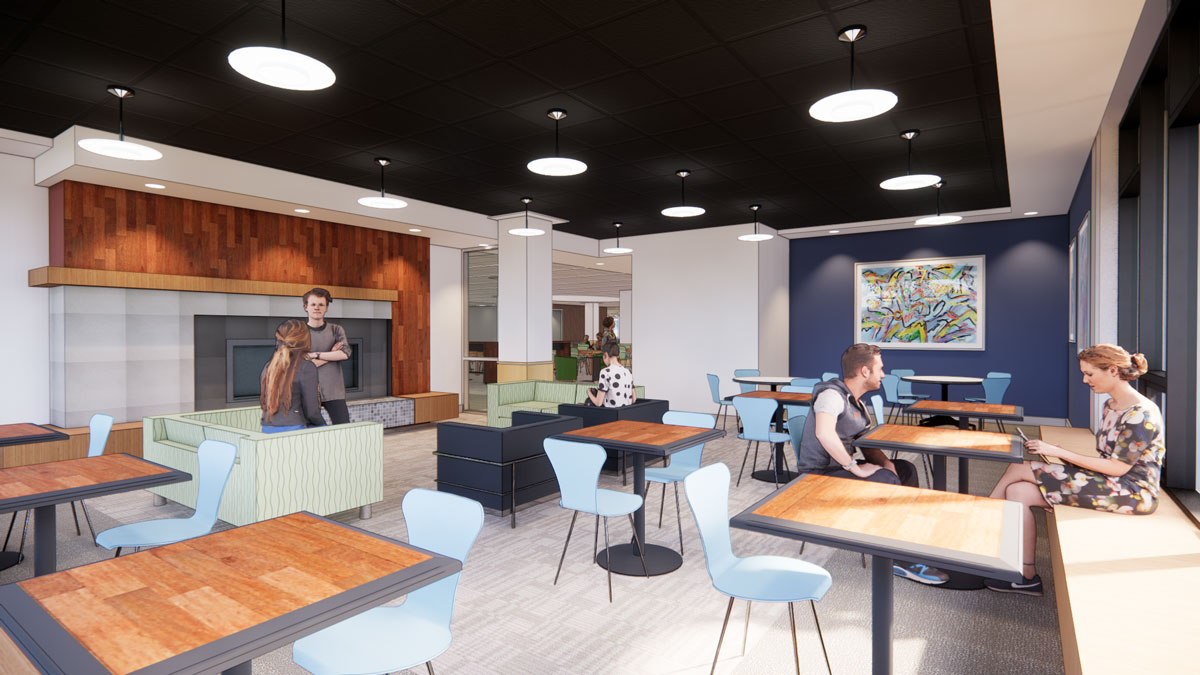 Renovations of the upper-level space are scheduled to begin in spring 2022. They will include collaborative work spaces, a study room open 24-7 for students with unusual schedules, enhanced makerspace with a 3-D printer and other tools for model creation, podcast studio, updated restrooms, elevator upgrades, a coffee kiosk, additional windows for natural lighting, an outdoor patio area, and a new historical interpretive area depicting the stories of both the Corette and Simperman families. Combined with the phase one renovations to the library, these upgrades will make the Jack and Sallie Corette Library and Simperman Learning Commons a model academic library and a regionally unique facility for students, faculty, and staff to engage in cross-disciplinary work and research and access both digital and traditional resources.
For those interested in supporting the renovations for the Jack and Sallie Corette Library and Simperman Learning Commons, please visit the giving page for the Corette Library Building Fund.
About Roy Simperman
Roy Simperman is an entrepreneur and lifelong supporter of educational access.
A Carroll College graduate class of 1962, Simperman paid his way through school, graduating nearly debt‐free by working as a truck driver in the summers and a rock and jazz musician on weekends. He majored in math and minored in physics, history, English, and philosophy, completing five years of work in just four years, and graduating cum laude. He went on for a Master's in Physics at the University of Nebraska and later attended the University of Washington, going on to earn an MBA in finance and economics.
In 1965, Roy married Diane Corette (now late), daughter of Jack and Sallie Corette, whose tireless efforts and personal donations led to the building of the Corette Library. The couple moved to Seattle, where Simperman went to work for Boeing, coding and calculating trajectories for NASA lunar orbiter computer simulations, creating software for NASA mission navigation and guidance control, and working on a fusing system for a nuclear warhead in a missile. He later worked at Weyerhaeuser Timber, where he initially designed and developed a computer simulation to model the forestry program from genetics to timber harvest, making the company more profitable. At just 35 years of age, Roy was then placed in charge of the largest division of its kind in the world with 29 facilities in seven states including all of Weyerhaeuser's nurseries, greenhouses, orchards, seed plants, and their genetics program. In 1985, he purchased Audio Control, a manufacturer of equalizers and signal processors for audiophiles. He also bought a stock photography company which sold photos online before the Internet was widely known. Simperman's work at the stock photo company led to the creation of his company, Semaphore, in 1994. In 2001, Simperman began dating Frances Rogers, owner of a successful printing business in Seattle; she and Roy co-designed their home in Hawaii and married in 2004.
Having achieved his own goals and recognizing the importance of education in creating a rewarding and impactful life, Simperman has dedicated time and funding to helping others achieve their educational goals. He has served as family manager for the Elsie P. Corette Scholarship fund at Carroll College, started by his father in‐law, providing aid to over 190 students pursuing careers in medicine. In 2009, he created the Simperman Math and Science Scholarships at Carroll College, later expanded to include nursing. Over the years, the Simperman and Corette Scholarships have provided over $2 million dollars in scholarships to deserving students.
Roy was also instrumental in creating a partnership between Carroll's Data Science Program and the W.M. Keck Observatory on the Big Island of Hawaii. Through the generosity of the Simpermans, Carroll is the only undergraduate institution in the nation to have developed a post-graduate paid fellowship with the Keck Observatory, which houses the largest and most productive optical and infrared telescopes in the world.
Roy and Frances split their time between Mauna Lani and their home on Mercer Island in Seattle. Roy continues to operate Semaphore. Frances serves as a Director on the board of Parker School in Hawaii.