Carroll Nursing Student Wins National Scholarship
Tuesday, November 9, 2010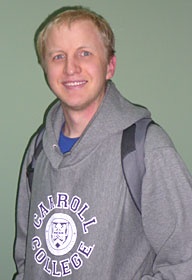 Carroll College nursing student Jim McKay, a junior, is one of two undergraduate nursing students nationwide who have won a $2,500 Hurst Review-American Association of Colleges of Nursing (AACN) Scholarship for Scholastic Excellence. The Hurst Review-AACN Scholarship recognizes outstanding students in baccalaureate nursing programs. The other undergraduate winner of a Hurst Review-AACN Scholarship for Scholastic Excellence hailed from Indiana University. The AACN also awarded two scholarships to nursing students pursuing graduate and doctoral degrees, with those two scholarship recipients attending University of Utah and Michigan State University.
"It's pretty exciting to win a scholarship, let alone from a national organization like the AACN," says McKay. "I'm grateful that my life led me to Carroll and that I've been studying in an environment that has allowed me to perform at a level high enough to stand out among students from all over the country. Behind every good student, there stands a great teacher, and the faculty and staff at Carroll have been phenomenal. I've certainly put in my work, but having great teachers has made all the difference."
Where is Jim today?
Carroll nursing alum Jim McKay was chosen for the very competitive and prestigious Nurse Internship at Parkland Hospital in Dallas, TX and wrote this letter of thanks to Carroll's nursing faculty:
Greetings from Dallas!
I just wanted to pass on a few items of interest. Parkland Hospital received 190,000 applications for employment last year. They hired 1,900. This covered all areas of the hospital and isn't isolated to nurses, but that was pretty impressive. Additionally, there were over 1000 applications submitted for the internship I applied to and 65 interviews given for 18 spots. I'm one of two or three from Montana and the first from Carroll in the 40 years of the program's existence. It's the longest running internship in the country. Parkland's burn unit is one of the best in the country and I get to spend at least a month working there and have a shot at being employed there after the internship, if there is a spot and I like it enough. The burn unit is the only place in the hospital that sees patients below age 13 (because there is a Tier 1 children's hospital that is separate, but connected to Parkland).
I mention all of those things to impress upon you just exactly the quality of nurse you, as faculty, helped produce. The interns are from all across the country, Massachusetts to California, Montana to New Orleans, and there is one student who moved to the United States from South Korea at age 17. We've had it drummed into us already and it seems that it will continue that we were selected for specific attributes, many of which I know I wouldn't have cultivated had I been accepted into MSU's program. I'm working alongside some of the best and brightest to graduate nursing school, and being instructed by some of the best in the field...and I can hang with all of them. Some of that may be my disposition and personality, but all of you helped me build a rock-solid and deep foundation with which to build.
We had our first lecture this last week (August the 10th) and we were being taught straight out of a CCRN review course manual. Not only did I understand almost all of what was said after not having been around A&P, ventilators, medications, or the critically ill for eight months, but some of it was a review and deepening of things I learned in Maria's classes. They have a department entirely devoted to research and have around 300 patients at any given time participating in various studies and we're expected to give a 30-45 minute presentation that has 30-50 citations at the end of the internship. Parkland is the county hospital for Dallas, so we are also the primary providers of public health to everyone, regardless of ability to pay. I know many of the critical care units are involved in outreach programs for Dallas County. Several of the students did not participate in a Capstone of any kind, or of shorter duration than any of the Carroll students. I am the only one out of the 18 that is PALS certified, and one of three that are ACLS certified. Unfortunately, we can't use Nursing Central (for now) because no electronic devices (iPod, cellphone, etc.) are allowed on the floor, but there is talk about getting iPhones for the floors in order to page people and keep drug books available.
Anyway, there isn't one aspect of nursing school that doesn't apply to my internship. I'm sure that isn't exclusive to Carroll, but in the next eight months, I'll probably use something each and every one of you taught me. And I'm not going to forget that. I wear the black Carroll College Nursing shirts under my scrubs every day (I have four). The CCSNA gifted me with a lovely pen light that I've already used a great deal and will continue to use. The final stop on the train I take to work is 'North Carrolltown,' so I literally see Carroll every day.
So, thank you all for the little bits you've touched me and my practice. Your influence is greatly appreciated. I'll do my best to do you all proud!

Take care,
Jim McKay