Carroll Enters into Agreement for Summer Study at Exeter College Oxford
Friday, February 22, 2019
HELENA – Carroll College President John Cech is pleased to announce that Carroll College has entered into a multi-year agreement in principle with Exeter College in the University of Oxford which will allow Carroll students the opportunity to live and study in Oxford on the six-week Exeter College Summer Programme (ECSP) at Exeter College.
The six-week Summer Programme at Exeter College, Oxford is a unique opportunity for Carroll students to experience undergraduate life at one of the most prestigious universities in the world, the University of Oxford. Exeter College is one of the constituent colleges of the University of Oxford and the fourth oldest college of the University, having been founded in 1315.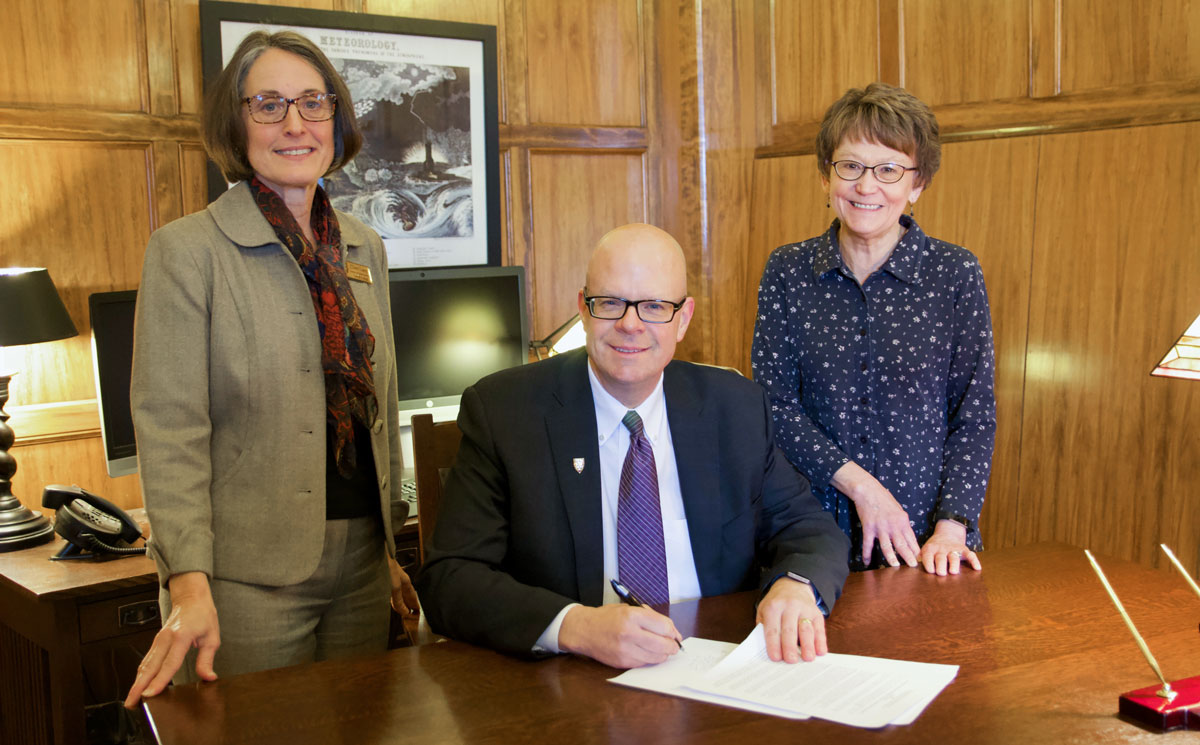 Director of Global Learning Cheri Long (right) and Interim Vice President Academic Affairs Cathy Day (right) with President Dr. John Cech signing the agreement with Exeter College, Oxford
The aim of ECSP is to challenge and inspire students through engagement with Oxford's world-class reputation for academic excellence. Carroll students will receive an authentic experience of undergraduate collegiate life in the UK and share in Exeter's distinguished 700-year history with a talented and diverse cohort of students from across the world.
"This is a very exclusive opportunity for our students as Exeter College admits only 90 students into this program from around the world," said Cech. Other universities participating in the program include: UC Berkeley, Harvard University, Yale University, Tufts University, University of British Columbia, University of Hong Kong, and the National University of Singapore.
The program runs from June 30 through August 10, 2019, and includes single occupancy, en suite lodging, three meals a day (Monday-Friday), academic programs, and excursions. Students will participate in any two of the 12 exciting cross-disciplinary lecture courses. Following faithfully the Oxford undergraduate teaching model, classes are small and learning is discussion-based and research-focused, providing opportunities to work closely with Exeter College and Oxford University teaching faculty. The range of lectures and seminars offered include the arts, humanities, social science, mathematics, science, and engineering. Students will also have the option to substitute one course with an Individual Research Tutorial and work on a one-on-one basis with an expert in the field in a topic chosen by the student. In addition, there will be a series of one-hour evening lectures. Courses will be transcripted into Carroll College credits. Students will live in Exeter's Cohen Quadrangle in the heart of Oxford and dine in the college's historic dining hall, dating back to 1618, including three formal candle-lit three-course dinners.
Students will also have access to Exeter College's historic chapel and library. A day trip to London, culminating in a performance of one of Shakespeare's plays at the Globe Theatre is also included (Henry IV Part I in 2019.)
"This summer partnership with Exeter College at the University of Oxford represents an amazing addition to Carroll College's global study programs and is truly a historic moment for Carroll College," said Cech.
Carroll College currently offers exchange opportunities in Japan, South Korea, Chile, Spain, France, England, Ireland and Norway. Carroll also belongs to the ISEP consortium which allows students to study abroad for a semester in more than 40 other countries. This academic year alone Carroll had or will have faculty-led programs traveling to Peru, Mexico, South Africa, France and the Middle East (Uganda, Spain and others are expected next year.) For more information on Carroll's global learning opportunities, visit carroll.edu/global.
For additional information on the Summer Programme at Exeter College, Oxford, please contact the Saints Success Center, 406-447-5532, saintssuccesscenter@carroll.edu.