Carroll College Hires New Director of Annual Giving
Thursday, August 11, 2016
August 11, 2016
Gayle Agostinelli Retires After 24 Years at Carroll
Gayle Agostinelli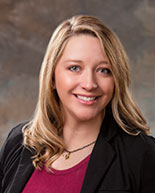 Kellie Dold
HELENA – Carroll College is pleased to announce that it has appointed Kellie Dold as the new Director of Annual Giving in the Office of Institutional Advancement. Dold's appointment follows the retirement of Gayle Agostinelli, who has led Annual Giving for the past 16 years.
Dold has served as the Senior Annual Giving Officer for six years. Her primary responsibilities have included the IMPACT phonathon, Grateful Saints program and the Senior Grateful Saints Campaign. Dold received a bachelor of science degree in sociology from Montana State University–Bozeman in 2009.
"As the new vice president for advancement, it was readily apparent to me that Kellie had been well prepared by Gayle and was immediately ready to step into her new role. She has been very effective for the past six years as our senior annual giving officer. I am confident she will do an excellent job cultivating relationships in our community on behalf of Carroll College," said Michael Larkin, vice president for advancement.
Dold will take over the reins from Gayle Agostinelli who has worked in the Carroll College Office of Institutional Advancement for 24 years, serving as the Director of Annual Giving for the past 16 years. During her time as director, both the St. Charles Borromeo Guild leadership annual giving guild and the Grateful Saints student philanthropy education program were created. In addition, over seven million dollars have been raised through the Carroll College annual fund during her tenure.
"While we celebrate Gayle's decision to enjoy life and her many activities and interests in retirement, her strong relationships with our alumni and Helena community will be a loss to the Carroll community. Her positive attitude and zeal for her work and her co-workers has been emblematic of her joy for life in all that she does. All of us at Carroll wish her happiness and joy with her family and friends in the well-earned next step of retirement," said Tom McCarvel, vice president for community relations and facilities.
Kellie Dold's official start date is August 15, 2016.