This article originally appeared in the winter 2018 edition of Carroll Magazine and has been adapted for the web
by Breanna Caldwell, Class of 2018, Anthrozoology major from Aurora, Colorado

A
ugust 30, 2016. A day I will never forget. It was the day that I met Anna, my Anthrozoology foster dog for the year. Little did I know at the time that she was about to change my life forever. I was at the Anthrozoology Equine Center on that Tuesday afternoon when Dr. Erica Feuerbacher texted me, "I have a dog for you! Can you pick her up at 5:30 at the ANZ house?" To say I was excited would be an understatement. The next two hours were a blur as I was anticipating meeting my dog for the first time. I was sitting in the chair in the small back room at the St. Francis of Assisi house waiting for my dog to come through the door. The door opened and in comes a beautiful yellow lab named Anna. As soon as I laid eyes on her, I fell in love. I knew that my year raising her would bring me joy and I could not wait to get started.
Our first week brought laughter and tears, sometimes at the same time. We had good days and then we had bad days, for both Anna and for myself. Training a dog is not easy, especially as a novice trainer learning how to train dogs for the first time. Our first few weeks with each other were by far our hardest throughout our seven and a half months together. Kennel training and separation anxiety were the focus I had for Anna in those first weeks.
As a student raising a dog who has separation anxiety, it makes you feel bad when you leave your room and just hear them barking and whining for you to come back. I faced this every day. Not only was I in St. Charles Hall with Anna, but I was also a Community Advisor. My girls, who loved Anna, I'm sure were also frustrated with me to hear her barking, loudly, whenever I left to go to class, or even the bathroom.
There were two days that I distinctly remember her having severe anxiety when I lef. The first day was just our first weekend together. It was a home football game and I was planning on meeting up with some friends for lunch and then the game. That day it took me over an hour to get Anna to go in her kennel so that I could leave. She wouldn't go near it. I trained tossing treats in for her and she would grab them and then back out. I tried going in the kennel with her, but nothing was working. I eventually broke down in tears on the floor. Anna came up to me and tried to comfort me—that's when I knew she was special and had a future as a working dog.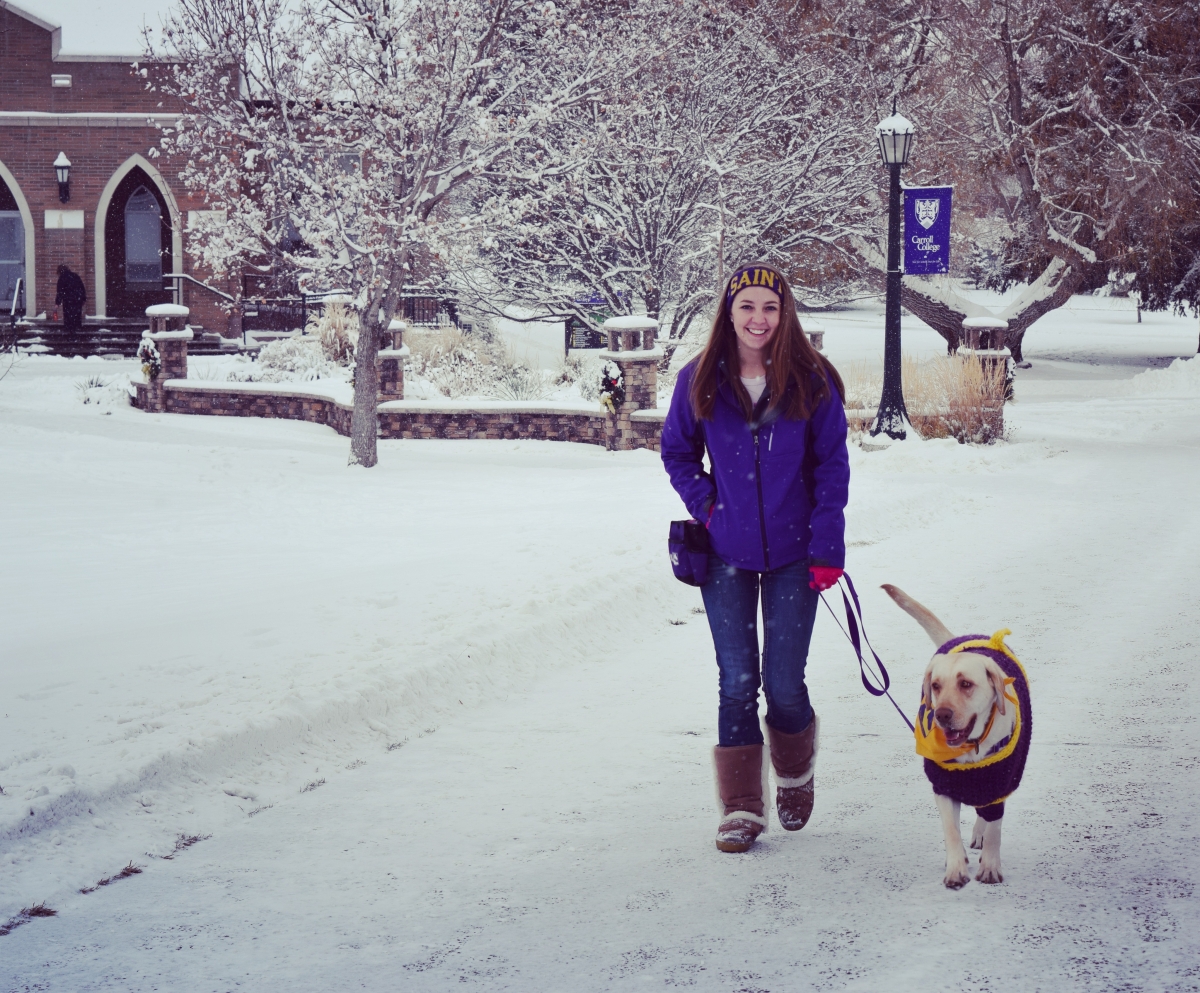 The second day that I remember, I decided to record Anna while I went to lunch at the St. Thomas Aquinas Commons for just 30 minutes. Anna was in her kennel and my laptop was set up on my desk to record her. Once again, as soon as I left the room, the barking started. I left, ate, and came back. My friend Bridget and I watched the video and in that moment, I realized how much work I still had to do. The first 20 minutes of the video were of Anna barking, trying to dig her way out of her kennel, and biting at the kennel door. I knew I had my work cut out for me, but I could do it, I believed in Anna.
Our training after these two incidents, which were only days apart, improved tremendously. It started with treats anytime she would go near her kennel. Eventually that evolved to treats when she would go in her kennel. Overtime, the kennel became her safe place. Her den, where no one would bother her. The separation anxiety took more work, but every step we took was huge, even the backwards steps because it taught me how to be a better trainer. We took baby steps, starting with me just rounding the corner for five seconds increasing my time to the threshold that Anna could handle. And then increasing my distance away from her. Slowly but surely, we made it through our biggest struggle.
Our training continued and we focused on therapy work. She had a knack for making people happy and knowing when someone needed a yellow lab lean and kiss. A walk around campus that would normally take 10-15 minutes would take me closer to 30 minutes when I had Anna with me. She was a people magnet and I knew she needed to go to a working home. Anna loved people and people loved her, so naturally I thought a school setting where she would get to be with people every day would be the best fit.

N
ovember 16, 2016 was the first day I had correspondence with her forever home. Kelly Palmer, the counselor at Troy Jr/Sr High School in Troy, Montana, expressed interest in having a therapy dog at the school and the ft was perfect for Anna. We met in December right before finals, and in that moment, I knew this was the home meant for her. I took Anna home to Colorado over winter break where I decided that Troy would be her forever home. On January 19, 2017, I finalized my decision and informed Palmer that he was the perfect ft for Anna. The following months few by in a blur as I knew my days with Anna were numbered but we made the best of it. We visited Troy to see the school and her new home. Within the first few hours of being in the school and the town, I knew Anna would succeed. There was no doubt about it.
We spent our remaining time together working on specific tasks based on the population Anna was going to be spending her time with. I taught Anna how to open handicap accessible doors, interrupt self-harm and tantrums, and deep pressure therapy. These tasks came easy to Anna and were more fun for her than they were work.
Anna is living the life I dreamed of for her in Troy today. She attends school every day with Palmer and his wife Jeanie, the art teacher. We all thought that the first weeks in school with Kelly in May were going to be hard transition weeks, but Anna proved us all wrong. On her first day at school, Anna spent her time snoozing in the office and greeting students in the hallway during passing periods. On her second day, she was of-leash the entire time, without a single problem. It was very clear that I made the right decision for her new home.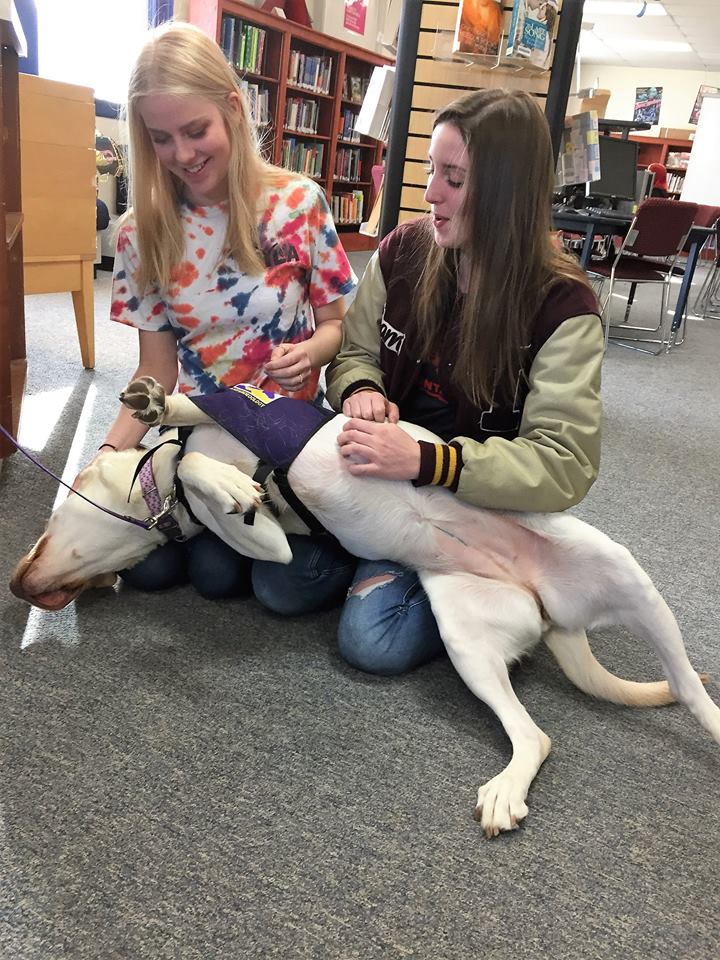 Anna and Kelly spend their days after school hiking through the Kootenai National Forest and fishing along the river bed. As a people oriented dog, Anna bonded with Kelly very quickly and spends almost every day with him, at school and at home. This school year has been a busy one for Anna, and she is already at the half-way point for her first year as a therapy dog. The students and staff at Troy Jr/Sr High School adore Anna and many students visit Kelly in his office more now than ever before because Anna is there as a social connection. Guest speakers have included Anna in their talks by giving her a t-shirt to wear just like the students and staff.
Every day in Troy, and even here in Helena, was an adventure for Anna. She can take a mediocre day and make it great. It takes just one look from her sweet face to make you fall in love with her. She'll welcome you home with a toy and lean into your leg for a belly rub.
When asked what I learned most through training a shelter dog in college, my answer is always patience and perseverance. Anna taught me what it means to have patience, not only in training, but in everything I do. We would make great strides but then go back a few steps only to charge forward again. Training a dog takes patience and perseverance, just like most other aspects of life. When a dog does something wrong, they don't know it was wrong and often they don't understand why you're upset. Patience is key in these situations.
There were many times that I got upset with Anna but never once did I take it out on her. She taught me to take a step back, take a deep breath, and relax. Being patient while raising Anna to be the best dog she could be, made me more patient in all things I do in life. With my friends, my family, my school work, and truly with the course of life in general. Life never really goes as planned and patience is key. I look forward to the day that I am reunited with Anna. Her sweet disposition will always be in my mind. Anthrozoology and the Canine Training Program brought Anna in to my life and I could not be more grateful for my professors who believed in me and Anna to reach our goals.
Anna does have an operating Facebook page that Kelly and Jeanie post updates to about their adventures together. Follow her at Anna: Troy High School Therapy and Facility Dog
The Anthrozoology program at Carroll College explores the unique relationships and bonds between humans and animals. By increasing our knowledge about this bond and by assessing how animals enrich our lives, we can improve the quality of life for both humans and animals. Carroll College's unique experiential approach provides students with both scientific and academic rigor and the hands-on application of the knowledge gained.