Talking Saints Win 30th Straight Regional Title
Wednesday, January 29, 2020
HELENA – Even being stuck in the mud couldn't stop the Carroll College Talking Saints forensics team from extending their string of regional championships to three decades. The team earned Gold Medal recognition in the Northwest Forensics Conference, the 30th straight year the team has won or shared the regional title. Boise State and Lewis & Clark were also honored with Gold status, for year-long excellence. The Carroll streak began in the fall of 1990.
The Saints nearly missed the opening round of the tournament after their charter bus got stuck in the mud. But Boise State, coached by former Talking Saint Manda Hicks '97, sent her Boise team bus to rescue the Carroll team.
"Our bus took a wrong turn down a two-lane road, and tried to back into a farm driveway to turn around. The rear tires ended up hopelessly stuck," said Northup. "So, we piled out and walked a mile down a two-lane road to a highway, and waited for Boise's bus. We were almost an hour late, but the judges all waited for our students. Amazingly, spirits were high throughout the whole muddy ordeal. And they did well that round!"
The Talking Saints brought home 47 awards from the Fred Scheller Invitational held at Pacific University in Forest Grove, Ore., January 24-26. Eighteen of the 20 competing Carroll students won recognition.
Senior Michael Fuller of Helena received the Megan Gaffney Award, which recognizes students "for their efforts to make the Northwest forensics community more inclusive and welcoming." The community gave Fuller a standing ovation in appreciation of "his loving spirit that always seeks to provide a voice for all students."
Talking Saints coach Brent Northup, who is stepping down as Northwest Conference president after 24 years, was also honored. A major conference award, honoring the most outstanding student in the region each year, will now be called "The Brent Northup Coaches' Commemorative Award." Newly elected president Michael Ingram of Whitworth University thanked Northup for his years of service – and invited Northup to the stage for a hug and to receive applause of thanks from the region's coaches and students. This is Northup's 31st year as coach of the Talking Saints.
"I was very touched by this, and was even wiping away tears afterwards," said Northup. "I love serving the students and coaches in our region and their love and appreciation felt like a warm comforter around me. And, for once, I had my own award to take back to the bus."
Leading the Talking Saints at Pacific were the Carroll debaters who advanced five teams to the championship rounds, and won 13 of the top 15 speaker awards in BP debate. Senior Kelsie Watkins of Snohomish, Wash., and junior partner Josh Mansfield of Pocatello, Idaho, won open debate, defeating Lewis & Clark and two other Carroll teams in the finals. Sophomore Kristian Bartel of Federal Way, Wash., and first-year debater Brady Clark from Madison, Wis., finished second in junior debate, won by Linfield College. Mansfield and Watkins were top speakers in open, and first-year team member Hellie Badaruddin of Missoula was named top junior speaker.
Vinny Gallardo, a first-year student from Butte, led all team members with five awards across four events. Sophomore Eleanor Ferrone of Hastings, Neb., won four awards, including recognition as the top junior competitor in the tournament.
Hellie Badaruddin won three awards including top speaker in junior debate and second place in the Orv Iverson competition, the "rookie of the year" competition. Badaruddin's partner, Roisin O'Neill, a first-year student from Lake Oswego, Ore., won three awards as did Taylor Potts, a sophomore from Great Falls, and Rylie Weeks from Kalispell.
Brady Clark won three top-three awards by winning novice prose, finishing second in debate and finishing second in novice extemp.
Senior Peri Dropping of Redmond, Wash., was given the "Carroll Bear" by her teammates, a Talking Saints tradition that gives a stuffed animal to a student who puts others above themselves during the heat of competition.
"This year's team is, above all else, kind and gentle," said Northup. "They support each other warmly, hugging and comforting ones who had on off-day. That crazy stuck-in-the-mud detour was typical – the whole team was laughing while we were waiting by the highway for a ride. Nothing could dampen their cheerful spirit. They just waved at passing trucks, trying to entice them to honk. A huge cheer went up when an 18-wheeler obliged. How can you not love to coach a family like this?"
The weekend ended with plans for a team wedding. Former Talking Saints Hanna Hillier and Ryden Meyer, class of 2016, are getting married in Boise in July – and asked their coach to officiate.
"This will be the fifth time I've officiated a wedding of former students and they are wonderful celebrations," said Northup. "I also decide debate pairings, but these lifetime pairings are the ones that really matter."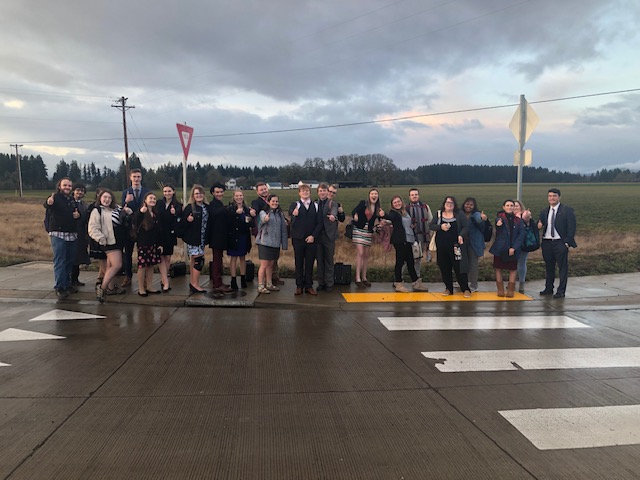 Talking Saints team waiting cheerfully by a rural highway to be rescued by the Boise State bus, after their Carroll bus got hopelessly stuck in the mud.