Talking Saints Off to a Promising Start
The Talking Saints, the Carroll College forensics team, are off to a fast start as the freshmen won nine awards at two early season tournaments.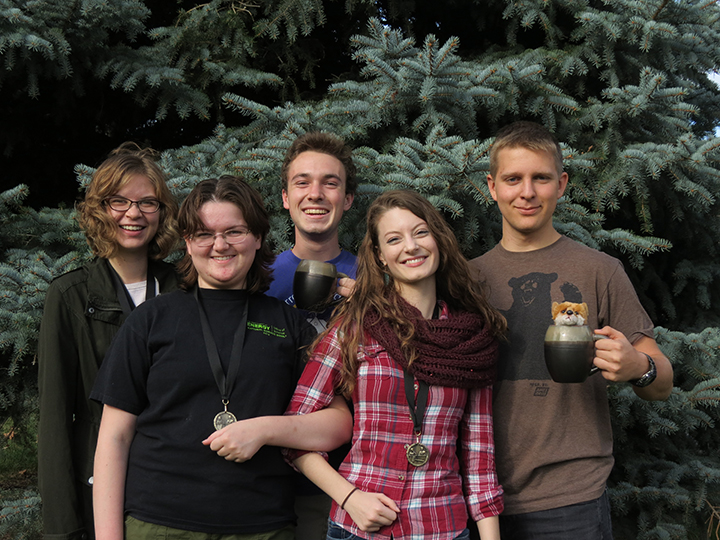 The freshmen winners with their hardware (pictured left to right) Amber Griffin, Haley Meredith, Frank Stumbo, Katie McNichol, Alex Thielman
Carroll sent three frosh to Vancouver B.C. and all three won awards.
Haley Meredith of Jerome, Idaho, who partnered with a student from Northwest University in Seattle, reached finals of World Debate at the University of British Columbia (UBC) Novice Tournament in Vancouver, B.C, on October 3-4. UBC won the championship, with the University of Victoria second and Carroll third.
Katie McNichol of Vancouver, Washington, and her partner Amber Griffin of Idaho Falls, Idaho, reached the semi-finals at UBC. Meredith was named sixth best speaker and Griffin was eighth.
Carroll's freshmen also won four awards at the Carroll tournament held on September 18-20. Freshmen Frank Stumbo of Shelley, Idaho, and Alex Thielman of Spokane, Washington, reached the finals, losing a split decision to a senior team from Northwest University of Seattle. Thielman was named third best speaker and Stumbo was ninth.
World Debate, in the British Parliamentary (BP) format, has long been Canada's leading form of collegiate debate. Carroll travels north a few times each year to build bridges and compete against Canadian teams.
"The hospitality at UBC was exceptional," said Griffin. "It was a friendly atmosphere and they fed us an all-you-can eat sushi dinner. We also had a casino night on campus, with everyone dressed in tuxes and formal dresses. Very classy."
Carroll took a box of Parrot chocolates from Helena's landmark chocolate factory as a thank you gift for the hosts and competing students.
"We were very popular when we walked into the room with the chocolate," said McNichol. "They loved the chocolate which was gone immediately."
The team visited Vancouver's famous Stanley Park before competition began.
"I got my first view of the ocean," said Griffin. "There was a great view of the water and the city."
"We loved every second of the trip," said Meredith.
Carroll travels to Edmonton on October 23-25 to compete in the University of Alberta Novice Open.
Carroll's upper class teams open competition this weekend in Portland at the Lewis & Clark tournament.
"We're just getting started," said Carroll professor and coach Brent Northup. "But spirits are good and the frosh are working hard. The heart of our fall season is from now until November 15 with five events ranging from Wyoming to Oregon to Vermont to Alberta, so we've been holding two and three hour practice sessions regularly. We'll be ready."