Talking Saints Continue to Rack Up Wins
Wednesday, November 4, 2015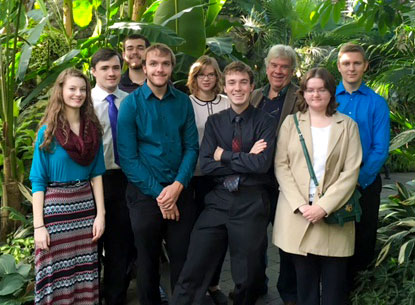 The Carroll College Talking Saints forensics team won six first place awards in two countries over the October 23-24 weekend, with success in Spokane, Washington, and Edmonton, Alberta.
Photo caption: The freshman Talking Saints during their tour of the jungle at the Muttart botanical museum in Edmonton.
In Spokane, senior Hanna Hillier of Jerome, Idaho, dominated interpretation at Whitworth University, winning two first places in prose interpretation and two first places in dramatic interpretation. The "swing" tournament had two full tournaments in one weekend: one on Saturday and one on Sunday.
"One top coach praised Hanna's dramatic interpretation as the best he's seen in years," said coach Brent Northup. "Hanna was delighted with the positive response her pieces received."
Carroll sent four students to Whitworth and they won the second place sweepstakes award.
"That's both surprising and delightful for just a quartet of students," said Northup.
Senior Anna Hoerner of Spokane reached finals three times, and sophomore Becca Poliquin reached finals five times, with two third places in poetry, and another third in impromptu.
In Edmonton, the Carroll freshman debaters swept the University of Alberta Novice Open, receiving both major awards recognizing the top team and top speaker. Frank Stumbo of Shelley, Idaho, and Alex Thielman of Spokane won the event, with Stumbo winning top speaker.
"The Canadians welcomed us warmly and even seemed pleased we won," said Northup. "The host Gabi, who debated at Carroll in an exhibition last year, even put up a few of our debaters in her gorgeous family home, just to save us a few dollars. They were so gracious."
Carroll advanced three teams to the semi-finals. Joining Stumbo and Thielman were Katie McNichol of Vancouver, Washington, and Amber Griffin of Idaho Falls, plus Haley Meredith of Jerome, Idaho, and her partner Nick Taffs of Helena. Griffin and McNichol joined the winning Carroll team in finals.
In World Debate in BP format, four teams participate in each debate.
Carroll won five of the top 10 speaker awards, including Thielman, Griffin, Meredith, Taffs and Stumbo.
Before the tournament started, the team toured the Muttart Conservatory, which features "biome" pyramids, each with its own eco-system including botanical gardens appropriate to the climate: temperate, arid and tropical. African stone sculptures were displayed amidst the exhibits.
"Muttart is a national treasure," said Northup. "I think we liked the jungle the best. Frank was contemplating staying there permanently."