Carroll community loses true and cherished Saint Fr. William Greytak
Monday, September 28, 2015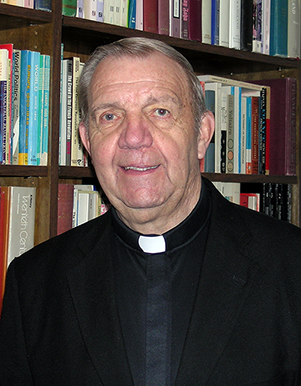 We are saddened to share the news that Fr. William Greytak, former student, professor and Board of Trustees member of Carroll College, passed away on Saturday, September 26, in Helena.
Fr. Greytak graduated from Carroll College with a degree in history and philosophy in 1952. Although initially planning to study law, during his time at Carroll, Sister Eugenia, a sister of the Dominicans of Germany, suggested he consider the priesthood. Following her advice, Fr. Greytak was ordained in Belgium at the American College in the University of Louvain.
His first assignment upon ordination was teaching Spanish at Carroll College. This began his long and popular career as a professor, first in Spanish and French, and then upon earning his master's and doctorate in European History from the University of Colorado–Boulder, teaching modern European History.
"Fr. Greytak humanized and brought historical figures to life–warts and all–making each class an eagerly anticipated event," shared former student Jerry Berberet '63. "He taught his students to analyze the significance of our historical past, in part to better understand issues of the present. In teaching students to think, he earned our highest respect. When asked about their major, rather than respond, 'History,' history majors would often reply, 'I majored in Fr. Greytak.'"
In addition to his time in the classroom, Fr. Greytak also served as a parish priest in the Diocese of Helena. He served the parish at Wolf Creek, moved to St. Jude's in Lincoln, then St. Thomas the Apostle in Helmville, and finally, St. Catherine's in Boulder, where he served through 2014.
Fr. Greytak was a treasured presence on campus–beloved by faculty, students and staff alike. Carroll College was blessed to have had him and he will be missed by all those who had the great pleasure of knowing him.
A vigil service is scheduled for 5:00 p.m., Friday, October 2, 2015, at the Cathedral of St. Helena with rosary prayers to follow. A funeral Mass is set for 12 p.m., Saturday, October 3, 2015, at the Cathedral of St. Helena with Bishop Thomas presiding. A burial will follow the Mass at the St. John of the Valley cemetery outside of Boulder. A reception will immediately follow the burial at St. Catherine's Catholic Parish in the Fr. Greytak Hall in Boulder, Montana.
Our deepest condolences go out to his family, dear friends and parishioners. The Carroll community has lost a true and cherished Saint.