Anthrozoology graduate Karin Wagemann recognized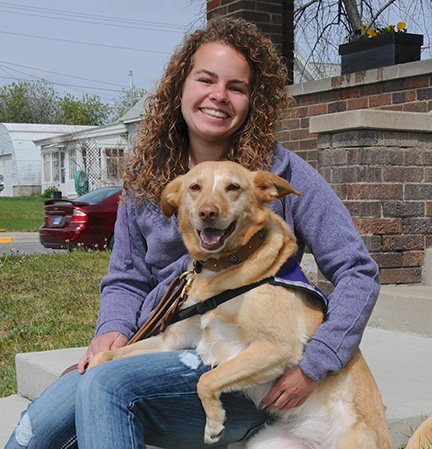 In October 2015, Anthrozoology graduate Karin Wagemann '15 was recognized for her academic abilities, track record, work ethic, and knowledge base at the American Society of Canine Trainers conference in Bozeman. In recognition of these attributes, she was awarded a scholarship to complete her masters degree in canine behavioral science at London Hanover University in Great Britain.
Karin's goal is to train dogs for the FBI or National Park Service, but she is willing to work for any federal agency that needs a skilled dog trainer. While taking classes at London Hanover, she will apply to the federal government beginning next year. She is simultaneously working towards trainer certification through the American Society of Canine Trainers (ASCT). She hopes to become a master trainer and instructor certified through ASCT.
Karin shared the following about her experience at Carroll, "The most valuable aspect of the Anthrozoology program was being able to foster and train a dog. I never would've gotten that opportunity anywhere else."
Karin and Eowyn (photo right) were also featured on a special telecast by KXLH TV back in May about Carroll's Anthrozoology program titled: Carroll College Prepares to Graduate First Anthrozoology Class
Congratulations Karin! We look forward to seeing where your ANZ degree takes you in the future.