About
Shannon Ackeret is the Director of Global Learning at Carroll College, where she has worked since March of 2002. She was born and raised in Eastern Montana and graduated from Opheim High School. Shannon earned her Bachelor of Science in Public Relations from Montana State University - Billings.
Shannon works with students to aid them in global learning experiences including internships, research, volunteering, service-learning, and study abroad programs. She also is the lead advisor for the Artaza Student Scholarship, Benjamin Gilman Scholarship, Peace Corps, and JET programs.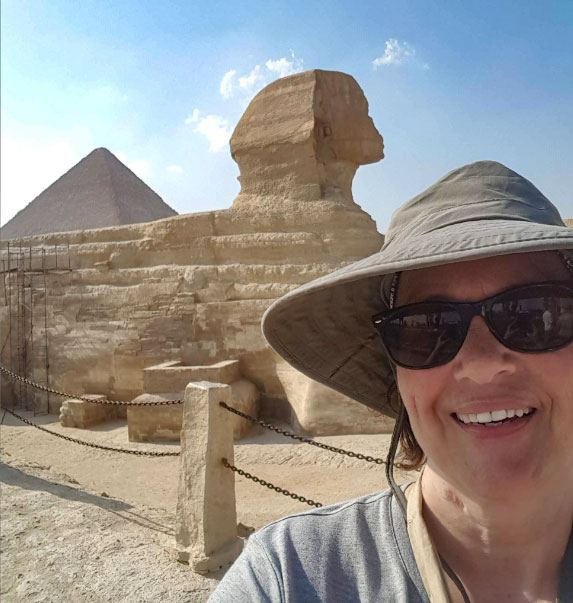 Shannon has journeyed to Spain, Cuba, Japan, Nepal, Argentina, Chile, Israel, Egypt, and Jordan and looks forward to adding more countries and, perhaps, the last two continents to her experiences!
In 2018, she studied in Kathmandu, Nepal, and earned her TEFL Certification through Fairmont State University. Shannon's leadership skills earned the Office of Global Learning a 2017 Generation Study Abroad Seal of Excellence from The Institute of International Education.
Her favorite part about Carroll College is the students and her co-workers. Shannon is married to David Ackeret and they have four children, Dustin, Jessica ('16), Jake ('18), and Tracy ('22). She also has one spoiled dog named Charlie.
In her spare time, she loves traveling, kayaking, and watching baking shows! She has participated in an old fashioned Montana rodeo, hiked to the World Peace Pagoda in Nepal, zip- lined in Cuba, rode a camel in both Jordan and Egypt, and walked the Gethsemane Garden in Israel.
Over the past nearly 19 years, Shannon has worked with over 1,000 Carroll College students and has watched them study, research, intern, or volunteer in the most amazing places. Each of them making their mark and adding incredible experiences to their own story. She is looking forward to working with future Saints to continue the tradition because it's what Saints do!
Students can schedule an appointment with Shannon through their Handshake account.