Student Life
Bookstore Internet Sale - Nov 26-30
Looking for a good deal on Saints apparel? The Saints Shoppe will be holding an internet-only sale from Nov 26-30... 15% off all sweatshirts and hoodies! Have your order shipped to you or pick it up at the store. All orders processed on Dec 1 for shipping or pick up.
Words Across the Border - MON
On Monday at 7pm in the Lower Campus Center, the Talking Saints will celebrate Montana's friendship with Canada and Alberta during an evening called, "Words Across the Border". Two members of the Talking Saints will debate two of Alberta's finest debaters from the University of Alberta on the topic: "This house would build the pipeline and let the oil flow."

The debate will be followed by a panel discussion and audience comments led by Dr. William Parsons of the Political Science department, on Canadian-American relations in general, and Alberta-Montana relations in particular. The evening will be hosted by Brent Northup, coach of the Talking Saints, with introductory remarks and a greeting by a high-ranking official from the state of Montana. Read more
Need a place to spend Thanksgiving?
The Hales Family would like to invite you to a Free Thanksgiving Meal at their home on November 27th. If you're not going to meet friends or family, we'd love for you to come. Join us at 5:30pm for lots of yummy food and maybe some board games after we eat. Please RSVP Sam at shales@carroll.edu by Nov 25 - we only have room to seat 15! Once I get your RSVP by email, I'll send you our address and directions. Invite your friends to come with you if you want! We hope you'll come. We have no family near us, so we hope you'll share it with us!
Candy Cane Grams - Dec 1-5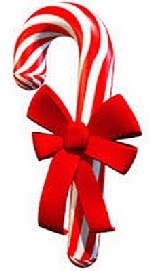 All next week, the Residence Hall Association (RHA) will be selling candy canes in the Cube during lunch and dinner and in the residence halls in the evenings. Here's the deal:
Buy a candy cane for $1.00 to send to a friend, boyfriend, girlfriend etc. with a personalized message attached.
RHA will deliver the candy cane to the person the weekend before dead week.
If a message is sent anonymously, you can pay an extra dollar to find out who delivered it.
All money will go to support RHA activities. Send a message - it's a great and fun way to close out the semester!
Winter Wear for Helena Head Start
BRRRRRRR it's getting cold outside! The Honor Scholars Program annual Winter Wear Collection for Helena Head Start Students. A donation tub is in the corner of the stairwell landing at the South entrance of St. Charles just above the HSP Student Study 034 A.
Items needed: mittens, scarfs, hats, snow pants, winter coats. The items collected will be taken over to The Helena Head Start on the last day of finals (Dec 12).
Thanksgiving Break - Next Week
Carroll College will not have classes in session on Wed, Nov 26, through Fri, Nov 28, for Thanksgiving break. Classes will resume on Mon, Dec 1st. Campus housing will remain open for the break. Meals will be served in the STAC on Wed, Nov 26, with brunch from 10:30am-12:30am and dinner from 5pm-6:30pm and on Sun evening from 5pm-6:30pm. The STAC will not be open on Thu, Fri and Sat of break.
Upcoming Events
Monday, Nov 24
7pm: Debate: Words Across the Border
7pm: Honestry, Integrity and Responsibility, OC 106
7:30pm - Sociology research presentations
Wed, Nov 25-Friday Nov 27
No classes, Administrative Offices closed
Happy Thanksgiving!

Saturday, Nov 28
12pm: #1 Saints vs #8 S Oregon
NAIA Quarterfinals
Sunday, Nov 30
No classes, Administrative Offices closed
5pm: STAC Reopens

Wednesday, Dec 3
6-9pm: All-Alpha Conference
Thursday, Dec 4
1pm: Saints for Life
5pm: ASCC Christmas Party
7pm: Religions and Railroads: Montana's Religious History