Student Life
New Campus Apartment Drawings
Carroll begins construction on new campus apartments. These computer renderings show the new apartments being built on the east side of campus. Each of the two, four-level units will house 48 students. Groundbreaking was held on May 10th. Students will be moving in next summer! Read the details of the groundbreaking.
Life commences for Carroll's 288 new graduates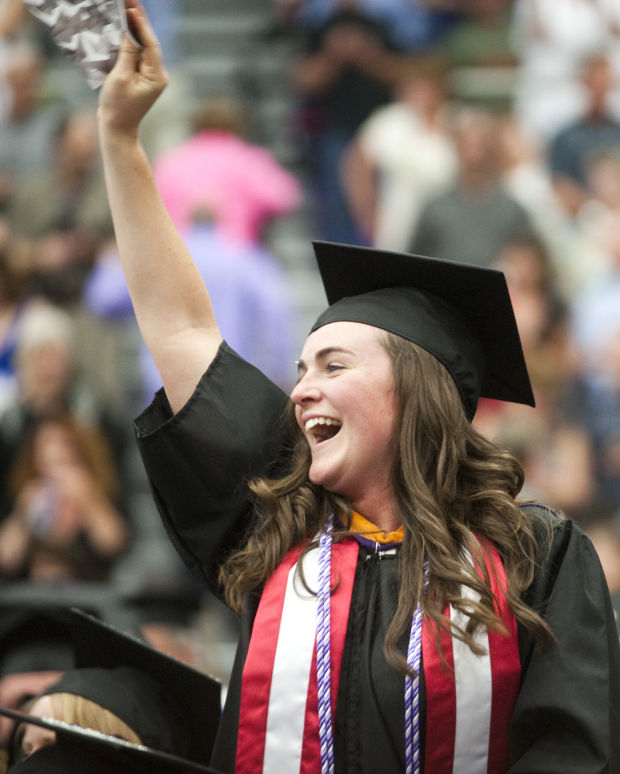 It's the little things that count in life and how we handle them with grace. That was one of the themes touched on by several speakers at Carroll College's commencement ceremony, Saturday afternoon at the Physical Education Center, when 288 students graduated with bachelor's degrees.
Commencement speaker Carolyn Woo, the CEO and president of Catholic Relief Services, spoke of the importance of "Grace in a Competitive World."
Just after they'd all competed to get into college, and for financial aid, and for educational honors, now they are headed into the "real" world, where they will compete for everything from jobs to parking spaces, she said.
Competition isn't necessarily bad, Woo said, it's what we do with it. While pursuing honors, trophies or a corner office, we can allow competition to shrink our capacity to be open and human to others and ourselves.
Carroll commencement awards
During Carroll College's Commencement on Saturday, which was its 103 commencement ceremony, the following honors were awarded:
The college's Borromeo Award, recognizing outstanding service to the world community, was given to the Rev. Bernard Peter Byrne, a Carroll 1951 graduate, who as a member of the Maryknoll Fathers and Brothers embarked on a lifetime of caring for poor children in Peru.
Senior Megan Ann Olszewski, a community health major from Kalispell, was awarded the Michael Murphy Award for Outstanding Collegiate Citizenship. Read More
2013-2014 Tuition Letter from Dr. Evans
Read Dr. Evans' update on Carroll's 2013-14 tuition here.
Academic Calendar
Summer 2013
May 15-May 29/30 Summer School - Session I
May 15-June 5/6 Summer School - Session II
June 10-July 2/3 Summer School - Session III
June 10-July 11/12 Summer School - Session IV
Fall 2013
Aug 22-25 Student orientation
Aug 26 First day of classes
Sept 2 Labor Day
Oct 12-15 Fall Break
Oct 18 Midterm grades due
Nov 8 Graduation App due
Nov 27-Dec 1 Thanksgiving
Dec 7 Last day of classes
Dec 9-12 Final exams
Dec 13 Housing closes
Dec 19 Final grades due


Emergency Contacts
911 Emergency Services
406.442.3233 Police
406.444.2150 Hospital
406.442.6800 Abuse Shelter
406.443.5353 Crisis Line
406.461.7611 Securitas 406.459.0540 Campus On-Call
St. Peter's Hospital
Emergency Room
2475 Broadway - 406.447.272
St. Peter's Hospital
Urgent Care
2475 Broadway - 406.444.215
Urgent Care Plus
29 Neill Ave - 406.531.1052
Helena Urgent Care
3300 Ptarmigan Lane - 406.443.5354
Be A Saints Fan!
Tue, May 14-Fri, May 17
TBA: Mens Golf, NAIA National Championships, Creekside Country Club, Salem, OR.
Tue, May 21-Fri, May 24
TBA: Women's Golf, NAIA National Championships, Lincoln, NE.
Fri, May 24-Sun, May 26
TBA: Men's and Women's Outdoor Track and Field, NAIA Outdoor Track and Field National Championship Meet, Marion, IN.