Getting Ready to Grow
Spring 2022
This spring's PH 321 Gardening and Community Health helped Our Redeemer's Lutheran Church put in drip irrigation for their Food Share garden, grown to donate to Helena Food Share to distribute in Helena.
Forty Days of Food
April 2022
HELENA — Instead of giving something up for Lent, a group of Carroll College public health students decided to take on a project. It's called "Forty Days of Food."
Throughout Lent, students brought in one food item per day—all of it to be donated to Helena Food Share. The idea for Forty Days of Food came out of associate professor Kelly Parsley's intro to health sciences class. Full Story at KTVH
Carroll Students Present in Pittsburgh
November 2021
This winter, five Carroll students traveled to Pittsburgh Pennsylvania to attend and present at the Student Affairs Administrators in Higher Education (NASPA) General Assembly on work they did with Health Sciences Department faculty member Kelly Parsley. This is a conference of over 300 college students sharing ideas on how to make campuses healthier and more supportive for students.
The students shared their work in three presentations focused on student health and safety. Bray Holmes and Sarah Graham shared on healthy relationships, Eliza Shepherd and Faith Lundberg shared on campus Covid responses, and Eliza Shepherd and Chloe Unterseher shared on developing LGBTQ+ community support. Bray Holmes commented that "this was an amazing experience because we were able to get some great feedback and other ideas on how schools handle these issues as well. We look forward to implementing their suggestions and continuing to work on these issues each semester."
Food Share Harvest
May 2021
In May, Helena Food Share harvested spinach and radishes that were planted by the Gardening and Community Health class, featured on KTVH in March.
Vaccinating Our Campus
April 15, 2021.
News item on a COVID-19 vaccination clinic organized by Carroll Public Health and Health Sciences major Kali Cox and Carroll Health Sciences Department Chair Kelly Parsley in the Carroll Insider.
At Carroll we have been extremely fortunate to have had several on-campus opportunities to vaccinate our students, faculty and staff against COVID-19 – including an opportunity TODAY to receive the Pfizer vaccine in the Campus Center from 11 am to 2 pm.

These opportunities have arisen due to the dedicated work of our students and faculty and staff as well as the great partnerships we have in the Helena community.

On March 26, Carroll College was given 100 doses of the Moderna vaccine from the Helena Indian Alliance/Leo Pocha Memorial Clinic. Through the determined work of Carroll's Public Health and Nursing students and Professor Kelly Parsley's tireless advocacy on our behalf, this opportunity came to fruition with our students receiving valuable hands-on experience in the process.


Today and yesterday's Pfizer vaccination clinic in the Campus Center was a result of an offer by Lewis & Clark Public Health of 400 Pfizer vaccines for the Carroll community to be administered by St. Peter's Health pharmacy students with Carroll's Public Health students managing set up, sign up, flow, and monitoring areas. Second dose clinics are scheduled for May 5 & 6.

Through a combination of efforts, we are pleased to be doing our best to provide COVID-19 vaccination opportunities for all who want it in our Carroll community.

We are encouraging all students and employees to get vaccinated for COVID-19, but also recognize it is a personal decision.

Carroll College students prep Helena Food Share garden
March 31, 2021
Kyla Dane and Andy Quinn are interviewed by KTVH in a story about PH 321 Gardening and Community Health, taught by Health Sciences faculty member Gerald Schafer.
Carroll College students provide COVID-19 vaccines to staff, faculty, and more.
March 30, 2021
A story from KTVH featuring Health Sciences and Public Health major Kali Cox, and Health Sciences Department Chair Kelly Parsley.
Carroll Health Sciences Grad, Jordan Zepeda: Find something to be grateful for every day. 40 Under Forty.
February 14, 2021
Age: 28
Company and title: SCL HealthSt. Vincent Healthcare, manager of infection prevention
Hometown: Cascade, MT
Education and/or background: Master's degree in public health from the University of Montana and bachelor's degree in health sciences from Carroll College. Infection prevention in acute care hospitals for six years. In college, Jordan Zepeda took an epidemiology course "just for fun." Through that course, she uncovered her passion for public health and using a population-based approach to improve health outcomes. "The infection prevention field is an intersection between health care and public health. It allows me to use my epidemiology and public health skills to improve outcomes for our patient population," said Zepeda.
If you couldn't do this, what would you do instead?
I would be a microbiologist. That was one of my favorite courses in college and I considered pursuing it as career. As an IP, I still get to use some microbiology knowledge and every once in a while, I get to go to the lab to see all the cool bugs they're growing.
What other passions/callings are part of your life?
I value my family time and love being a mom and wife. We have a very energetic 2-year-old and our second daughter is due in January 2021. We enjoy spending time together outside, hiking & camping with our rambunctious dog.
More of Jordan's interview from the Billings Gazette
2014 Carroll Health Sciences Grad, Dakota Amy, Opens a Physical Therapy Clinic in East Helena
December 20, 2020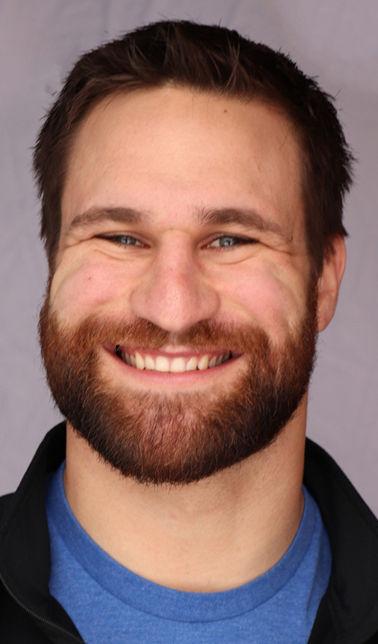 Dakota Amy, DPT has opened OrthoRehab Physical Therapy in East Helena.
An Idaho native, Amy came to Helena on a football scholarship to play for Carroll College. He was team captain and earned Academic All-Conference and Academic All-American honors. He is a 2014 graduate of Carroll with a degree in health sciences and a minor in public health. He earned his doctoral degree in physical therapy from the University of Montana in 2018. Amy has experience in sports medicine, post-concussive treatment and orthopedics
Health Sciences Majors Participate in Orthopedic Research Society (ORS) Annual Meeting, a Report from Dr. Alyssa Hahn, Assistant Professor of Biomechanics
February 2020 -- This past summer, I hired three undergraduate research students to join my research team. Each worked on an independent research project that culminated in the submission of an abstract to a major conference. We were notified in November that all three students' abstracts were accepted, two as poster presentations and one was selected as a podium presentation. Additionally, all of my research students applied and were awarded Montana INBRE Travel Grants to aid in funding their travel to this conference. Thus, on February 8-11, my research team traveled to Phoenix, AZ, to attend the Orthopedic Research Society (ORS) Annual Meeting and present our research.

ORS is an international conference (with over 3,000 members) for biologists, engineers, surgeon-scientists, orthopedic surgeons, and those in the field of musculoskeletal science and orthopedic care. Thousands of leading experts in orthopedics attend from across all across the world. Importantly, Carroll College was the smallest higher education institution represented (by a landslide), and the ONLY research team composed of exclusively undergraduates. Every other research team in attendance was composed of a combination of PhDs, MDs, DVMs, post-doctoral researchers, and graduate and undergraduate students.

Hope Welhaven, a senior health sciences/public health major, was selected as one of three individuals (out of THOUSANDS of attendees) to give an oral podium presentation during an Osteoarthritis Phenotypes Spotlight Session. Her talk was titled, "Metabolomic profiles of articular cartilage vary by osteoarthritis grade." Ethan Viles and Jenna Starke were selected for poster presentations. Ethan, a junior biology major, presented one of his summer projects titled, "Metabolomic profiles of conditioned media from primary human osteoarthritic chondrocytes and SW1353 cells." Jenna Starke, a recent Carroll health sciences/anthrozoology and graduate and soon-to-be medical student presented her work titled, "Global metabolomic profiles of human joint fluid following a second ACL tear: a case study."
Carly Trogstad, 2019-2020 Health Sciences Undergraduate Research Award
February 2020 -- Carly Trogstad, a senior Health Sciences major, was the recipient of the Health Sciences Undergraduate Research Award for the 2019 – 2020 academic year. This research is funded by donors who are champions of undergraduate research. Carly, who is applying to medical school, won this award for her continual, engaged research on best practices to treat osteochondritis dissecans of the knee in adults. This condition is common in children, but it's rare in adults, thus the knowledge on how to treat this population was lacking.
She completed a systematic review of this topic and is expanding this by interviewing orthopedic surgeons and physical therapists to determine how the evidence-based best practices align with what physicians in the field are currently doing. Additionally, she is researching the application of donor stem cells in the possible treatment of this condition.
---
Lewis & Clark Public Health Department Employee News: Gretchen Farkas, Suicide Prevention Intern
February 2020 -- Gretchen Farkas has begun working with Jess Hegstrom as an intern in the Suicide Prevention Program at LCPH. She is a Senior at Carroll College, majoring in Public Health. Her internship will continue through the last week of April, with office hours on Tuesdays and Thursdays.
Assording to Jess: "Much of her focus for this project will be on lodging in the Lewis and Clark area, since at least nine people took their lives in motels and hotels across the state last year." Gretchen will work on training for motel clerks and housekeepers, among others.
Gretchen will also help with the Military Strong campaign by developing a discussion guide for agencies and businesses that take the challenge. A second challenge is planned to begin this Memorial Day.
Gretchen is from Wallace, ID, and in her spare time she enjoys paddle boarding, traveling, and exploring national parks.
---
Public Health Students Present at National Conference in Baltimore
December 11, 2019 -- Gretchen Farkas (Senior Public Health), Madysen Hachler (Junior Anthrozoology and Public Health), Rachel Ladd (Senior Public Health), and Hope Welhaven (Senior Health Sciences and Public Health) traveled to Baltimore, Maryland in November 2019 to present "Be Kind to Your Mind" at the National NASPA General Assembly for Student Affairs Administrators in Higher education. The NASPA General Assembly is the leading association for the advancement of the health and sustainability of the student affairs profession and it focuses on college efforts to promote healthy lifestyles for students. The group's work addressed the cultural trends of depression and suicide among college students. The research in the presentation included a literature review, an outlet density scan, focus groups, interviews, a readiness assessment, environmental scans, and community education.
---
Carroll awarded Skin Smart Campus Platinum Award
October 30, 2019 -- Carroll College was awarded the
Skin Smart Campus Platinum Award by the National Council on Skin Cancer Prevention during the Council's fall conference in Washington, DC. The award recognizes Carroll's commitment to ensuring the well-being of our students by providing a safe, healthy learning and living environment on and off campus. Carroll pledges to keep indoor tanning devices off of our campus and out of our affiliated buildings. We also promote skin cancer prevention and sun safety education.
Carroll students Courtney Schroeder and Karissa Dykstra worked hard on the initiative this fall, ensuring Carroll achieved the various criteria for the award. They have offered sunscreen and skin cancer prevention information at recent football games and are displaying posters around campus, educating students and faculty about the importance of yearly skin checks and sun safe behavior. They recently completed a web page focused on sun safety education and skin cancer prevention and will oversee the installation of two sunscreen dispensers gifted to Carroll by the National Council.
Courtney commented that, "We are ensuring the well-being of Carroll's students by providing education to live a safe and healthy lifestyle. Skin health is an area often times missed across college campuses." Karissa added that, "pledging to keep indoor tanning devices off our campus is just another way to keep all students safe. Ultimately, we want to see Carroll support annual skin checks, educational events, and other prevention measures."
The National Council extends a very special thanks to Annette Walstad who oversaw the signing of the Memo of Understanding when she was Interim Vice President of Student Life. Her diligence in serving as a liaison with Carroll's administration was fundamental to Carroll achieving the Gold Award in April 2019, paving the way for Platinum this fall.
The Indoor Tan-Free Skin Smart Campus Initiative is sponsored by the National Council on Skin Cancer Prevention in response to the 2014 U.S. Surgeon General's Call to Action to Prevent Skin Cancer which concluded that there is a strong association between increased risk of skin cancer and indoor tanning use. We applaud the efforts of all involved and thank the Carroll College community for their strong commitment to this important issue.
---
Carroll Health Sciences Students Help Set L&C County Health Priorities
Spring 2019 -- Health Sciences Department students Brielle Bumgarner, Isazah King, and Roma Seal participated in a task force that developed Lewis and Clark County's Community Health Improvement Plan 2019-2022.
---
Carroll College "Healthiest Company" Designation
May 8, 2019 -- Carroll College has been named one of the "2018 Healthiest Companies in America" by Interactive Health. Carroll partners with Interactive Health to deliver wellness programs to our employees to monitor and improve their health. From a pool of more than 1,500 candidates, Carroll College is one of 151 companies recognized this year for empowering employees to make significant and sometimes life-saving changes to improve their health. To win the recognition, companies must have reached or exceeded a 70 percent participation rate in their organization's wellness program and their workforce's overall health risk was low, based on the results of an annual health evaluation.

Carroll Students Address Vaping among Their Peers
April 2019
Carroll students in PH 333 "Public Health and Theories and Practice" used their course work to help better understand vaping on college campuses. They conducted interviews, focus groups, and environmental scans. They also developed posters to help educate their peers on the harms associated with vaping. Students then presented their work to several community groups including the Kiwanis Club and the Rotary Club.
Jamie Severson (Senior Public Health major and Communication minor) stated, "I truly believe we are seeing the start of a very big public health crisis. Vaping is new and there isn't a lot of research. That's why we need to put in effort to educate the public." Students will also present this research at Carroll's annual Student Undergraduate Research Festival (SURF) in April.
Featured in picture: Roma Seal, Jamie Severson, Oona Harrington, Colleen Culbertson, Rose Ramos, Patrick Miranne, Kendal Compton, and Brian FauntLeRoy
---
Carroll Students Address Depression and Anxiety among Their Peers
April 2019
Carroll students in PH 333 "Public Health and Theories and Practice" used their course work to help better support their peers who wrestle with depression and anxiety. They conducted interviews, focus groups, and environmental scans. They also developed posters to help educate their peers on the multitude to resources both on campus and in town to support students who struggle with mental health issues. Students then presented their work to several community groups including the Kiwanis Club and the Rotary Club.
Pictured from left to right: Rachel Ladd, Hope Welhaven, Chris Walker, Maggie Phelan, Madysen Hachler, Amanda Skaflestad
---
Marijuana Use Prevention Group Presents
April 2019
Carroll students in PH 333 "Public Health and Theories and Practice" used their course work to help the Helena community address the dangers of marijuana use and driving. They conducted interviews, focus groups, and environmental scans. They also developed and distributed posters to help educate the community on the dangers of driving under the influence of marijuana. Students then presented their work to several community groups including the Drugged Driving Prevention Taskforce meeting at the Capitol Rotunda and at Hometown Helena.
Pictured from left to right: Kirsten Girolami, Brenna Rohnkohl, Alex Hurlbut, Dawson Zebarth, Anna Stockdill, and Victoria Fiebig
---
Carroll Students Getting Ready for Spring Gardening at Helena Food Share.
February 21, 2019 https://www.facebook.com/helenafoodshare/posts/2548529215176379
---
Biodiversity and Public Health in Peru
Fiona Brasfield, Winter Break 2018-19
I went to Peru to study biodiversity, but I quickly realized that Public Health is woven into everyone's everyday lives, no matter where you live. I stayed at an amazing research lodge on the Amazon that is part of a village called El Chino, comprised of about 80 families. These families do not have traditional American access to health care and education, they have to raise funds to help their children and their families. While in El Chino, our group was able to meet and purchase crafts from the artisan women who are a part of a non-profit entitled Angels of the Amazon. These women rely on tourists like us to buy the crafts that they make and all of the funds go towards construction of new classrooms for the children, salaries for teachers to help with education for their children, and the accessibility of local health care as well as the accessibility of larger clinics for villagers in need. As well in the ports of the city of Iquitos, we found water hyacinth. Water hyacinth is extremely invasive, killing all flora and fauna by creating mats that block the sunlight. These are breeding grounds for mosquitos carrying Malaria and snails hosting parasitic flatworms. Water Hyacinth can be seen as a large public health issue because they are highly invasive, and breed malaria which most people are unable to become vaccinated against because they are unable to afford this luxury. For me, traveling to different countries has put in perspective the need for educated and informed public health students locally and globally.
---
Wilderness and Environmental Medicine Course in Costa Rica
Kayla Morris, Winter Break 2018-19
Going to Costa Rica and spending 2 weeks learning emergency wilderness medicine was one of the best experiences of my life. From the long days spent in class, to the afternoon activities exploring, and long nights creating memories with new friends, there was never a dull moment. Days in class consisted of learning to splint, making litters, suturing, patient assessments and physical exams, CPR, water safety, bites and stings, wounds and burns, trauma, abdominal illness and injuries, water treatment, cold and heat injuries, lightning, survival, tropical infectious medicine, altitude sickness, search and rescue, and many scenarios putting what we learned to use. During free time we went snorkeling, surfing, whitewater rafting, ziplining, hiking, relaxed by the beach, and explored the surfing town of Dominical. This course also certifies you in wilderness first response and CPR. Provided through the University of Colorado.
---
George M. Dennison Civic Engagement Scholarship Winner
The award recognizes students at MTCC affiliate campuses who have volunteered significant time, energy and resources – while pursuing a degree or certificate – to projects that make a meaningful difference in the lives of others. Press release.
December 19, 2018--Heidi Hohmann Junior, Health Science/Public Health major. Heidi has volunteered the past three years as a health educator for the annual Special Olympics Montana Health Clinic, for five years with the Spokane County Regional Animal Protection Service (SCRAPS), and she volunteers weekly at Bryant Elementary in the Sixth Ward in Helena, helping to build resiliency in children who have experienced the toxicity of stress through adverse childhood experiences (ACEs). In addition to being an Asian American immigrant, she will be the first in her family to graduate from a four-year college. Her future plans include working in health care internationally through the Peace Corps.
"Heidi is a great example of what Carroll College strives to instill in our students—that what we do isn't just for school, but for life. In keeping with the ideals of George Dennison, she has invested and continues to invest her time in improving her community and making this world a better place." — Gerald Schafer, Assistant Professor of Health Sciences, Carroll College
Read more about Heidi's accomplishments here.
---
Students Present at National Conference
December 2, 2018 - Roma Seal (Senior Health Sciences and Public Health) and Gretchen Farkas (Junior Public Health) traveled to Orlando, Florida in November 2018 to present "Using Coursework to Improve Prevention Efforts on Campus and in the Community" at the National NASPA General Assembly for student affairs administrators in higher education. The NASPA General Assembly is the leading association for the advancement of the health and sustainability of the student affairs profession and it focuses on college efforts to promote healthy lifestyles for students. Seal and Farkas's work focused on helping college students better understand how point-of-sale tobacco marketing affects youth and how to develop community assessment and community collaboration skills and to practice sharing research findings with community groups.
"NASPA was a valuable experience," said Gretchen. "Although it was challenging to do the work and create the presentation, I'd recommend it to anyone." "This was my third year at the NASPA Conference General Assembly" said Roma. She added, "It was great to see people get excited about our work at Carroll."
Shoshone News-Press coverage--Gretchen's home town.
---
Mackenzie Hansen Receives Undergraduate Research Award
November 2018 - Mackenzie Hansen, Senior Health Sciences major, received the first ever Health Sciences Undergraduate Research Award this fall. The award, funded by several donors, is awarded annually to students completing innovative research. It is a competitive award program designed to prepare students for inquiry-based professions. The award is open to all students in the Health and Natural Science programs who exemplify the quality, character and academic promise of a student enrolled at Carroll College. Each award is intended to support one semester of faculty-mentored research for each recipient as an augmentation of a fall or spring semester course. Students and their faculty mentors identify a research project, clarify its scope and anticipated outcomes, and plan a public presentation of the student's research findings.
Mackenzie's research agenda focuses on analyzing the relationship between stress among college students and canine-assisted therapy. Mackenzie completed a systematic review on this topic and her results indicated decreases in stress that could improve academic performance and overall wellbeing. She is now researching ways that a canine therapy program could be implemented on Carroll's campus to benefit students.
---
Carroll Students Present Research at Elevate Montana Meeting

Carroll students Isazah King, Brittney Johnson, Rachel Ladd, and Kennedy Gavanaugh present their research on ACEs to Elevate Montana.
November 12, 2018 - Carroll students in Public Health Methods (PH330) presented research projects to Elevate Montana, a statewide agency focused on addressing adverse childhood experiences (ACE) within Montana's K-12 population. Throughout the semester students learned how adverse childhood experiences (ACEs) shape public health. Research topics included the role of ACEs in Native American Foster Care and how children with ACEs can benefit from mindfulness, music and athletics. Colleen Culbertson (Junior Health Science and Public Health) stated, "Most of the semester was spent learning about and researching ACEs. Presenting at Elevate Montana gave us a chance to share our research beyond the classroom." Rachel Ladd (Junior Public Health) added, "It was awesome to be able to present to people in the community on topics that are important to Montana and to us."
---
Montanans collaborate on handling prescription drug abuse
April 23, 2018 - Carroll College's public health students presented their work on prescription drug abuse to the Helena community at the state capitol. Full story from KPAX.
---
Despite snow, Carroll College students plant vegetables at Helena Food Share garden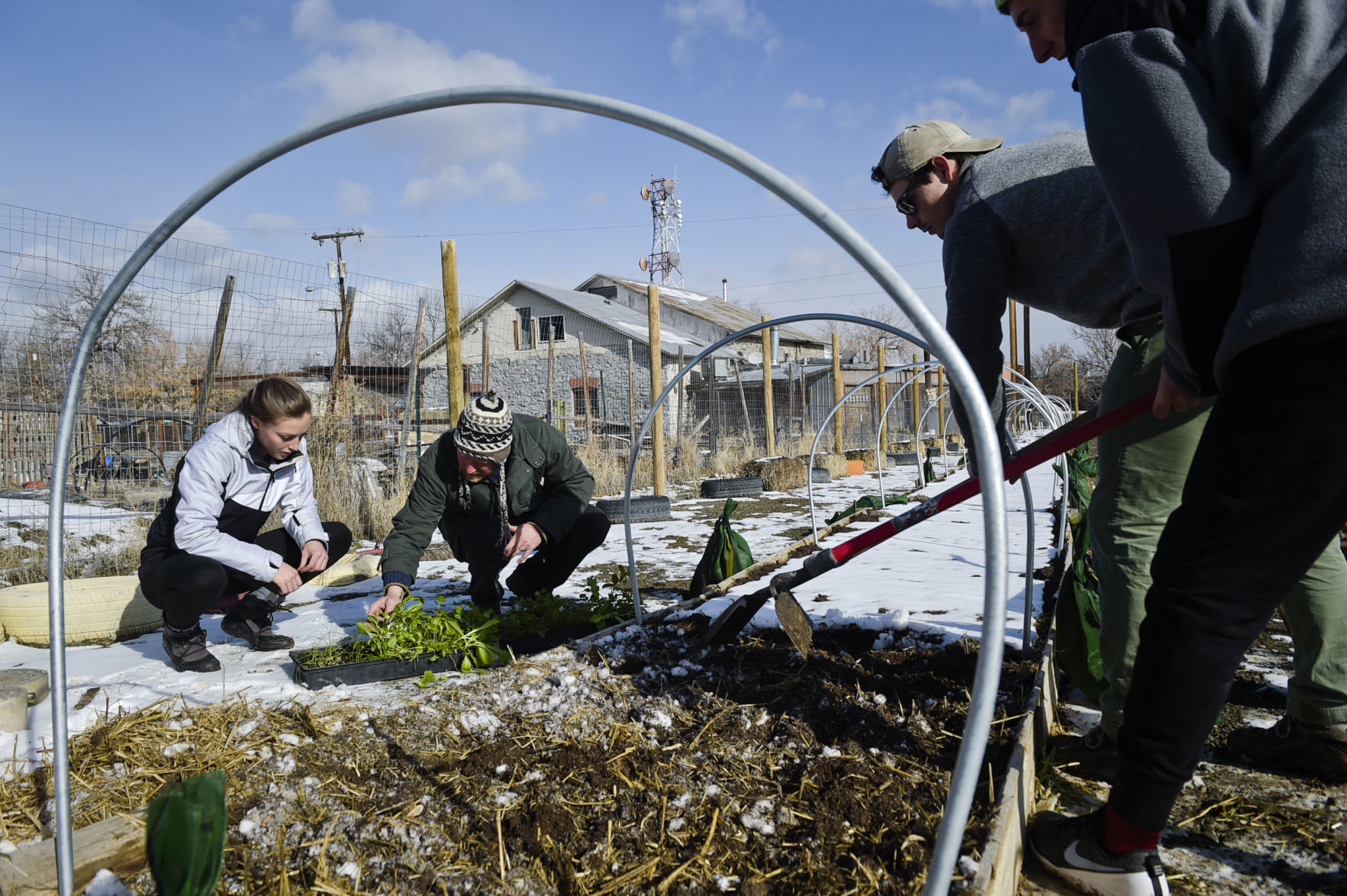 April 5, 2018 - Students at Carroll College started early-season planting at the Helena Food Share garden on Wednesday as part of a course to learn about nutrition, community health and growing in a tough climate.
It's the first year the Gardening and Community Health course has been offered by professor Gerald Schafer. The class is partnering with Shodair Children's Hospital and Helena Food Share with a goal to harvest and share some of the vegetables before the semester ends in early May. But Schafer said Helena's windy and dry climate and an unusually long winter have been challenging. Read more in the Helena Independent Record
---
Carroll Health Science Students Receive Alcohol Education Program of the Year Award
June 28, 2017
Health Science professor Kelly Parsley's PH333 class – Public Health Theories & Practice was awarded the 2017 Alcohol Education Summit Outstanding Community Program of the Year award from the Liquor Control Division of the Montana Department of Revenue. The award recognizes a community program that has helped to change the drinking culture in their community. The students' set out to seek an impactful solution to reducing alcohol related problems and assist in reducing some of the harm associated with college student drinking. Their efforts included a combination of assessing alcohol use, implementing educational strategies, and supporting community partnerships. Full Story
---
Working in Jamaica
"At the shelter, we led discussions on drugs and alcohol, sexually transmitted diseases, and oral health care. Kate and Heather led yoga classes there. We organized a run to raise money for the shelter, opened a day long health screening for those who were homeless, spent time doing physical assessments of the residents at the infirmary, and worked with the residents of the shelter to help them become self-sufficient. Amanda made a few resumes for the residents and with the goal of trying to get them jobs. In December 2015, Amanda Harrod, Heather Huguet, and Kate Graff had the opportunity to travel to Jamaica to work in the area of public health, focusing mainly at a homeless shelter in one of the poorest parishes in Jamaica.
"We also had educational lectures from the professionals in our group each night after working all day at the shelter. A few examples of the lectures included palliative care, motivational interviewing, and the rich history and culture of Jamaica. Additionally, the team from Carroll had two physicians, a psychiatrist, and an acupuncturist in the group.
"Even though it was difficult being away from home for the holidays, out trip was well worth the experience!"
---
Visionary Voice
Kelly Parsley, chair of the Carroll Department of Health Sciences, was awarded the Visionary Voice Award by the National Sexual Violence Resource Center (NSVRC).
NSVRC offers the Visionary Voice award, in conjunction with Sexual Assault Awareness Month each April, to recognize the creativity and hard work of individuals around the country who have demonstrated outstanding work to end sexual violence.
Kelly has been a victim advocate for the past eighteen years. She was invited to serve on the NSVRC Board and served as their Chair for four years. In 2006, she wrote the field guide that Montana law enforcement officers use to respond to sexual assault crimes, and in 2008 she completed the field guide law enforcement use to respond to domestic violence.
Think Tank on Sexual Violence Prevention
As a leader in her field, Parsley was also invited to participate in the Think Tank on Sexual Violence Prevention on College and University Campuses held May 5-6, 2015 in Atlanta, Georgia. The think tank is sponsored by the Centers for Disease Control and Prevention's Division of Violence Prevention and the American Public Health Association, and is in collaboration with the U.S. Departments of Education and Justice.
The meeting is designed to be a strategic convening of representatives from various sectors involved in preventing sexual violence on campuses. This meeting is a part of Not Alone: The First Report of the White House Task Force to Protect Students from Sexual Assault. This forum provides an opportunity for experts to share information and engage in critical dialogue essential for building a comprehensive approach to sexual violence prevention on college campuses.
"I was so honored to be selected for the think tank, and I am thrilled to be able to represent smaller schools that need violence prevention solutions just as much as the larger state schools around the nation," said Parsley.
---
Carroll Students Raise Money for Dental Health in Haiti
Giving back is more than a resume builder for Carroll College Senior and Health Sciences Major Christa Carter. Carter is Co-President of Carroll Outreach Team, a campus organization she's been part of for three years.
"Giving back is just a huge part of our life. I just want to show other people the importance of giving back. (COT is) just a club on campus that is for volunteering in the community and doing good throughout the world."
C.O.T. is partnering with the dental outreach team to put on the 6th annual "Hope for Haiti 5k". Read more and watch the video
---
Watershed Research
As a recipient of a $56,000 M.J. Murdock Charitable Trust grant, Dr. Jennifer Lowell and her students, rising juniors Sarah Ladd and Kurt Parker, were recently featured on NBC-KTVH and ABC Fox Montana-KFBB, discussing their project which examines whether high arsenic levels in the Upper Tenmile watershed, a mining-impacted watershed that supplies Helena with over 50% of its drinking water, can maintain and propagate reservoirs of antibiotic resistant bacteria and genes to downstream environments.