Montanans collaborate on handling prescription drug abuse
April 23, 2018 - Carroll College's public health students presented their work on prescription drug abuse to the Helena community at the state capitol. Full Story from KXLH
Despite snow, Carroll College students plant vegetables at Helena Food Share garden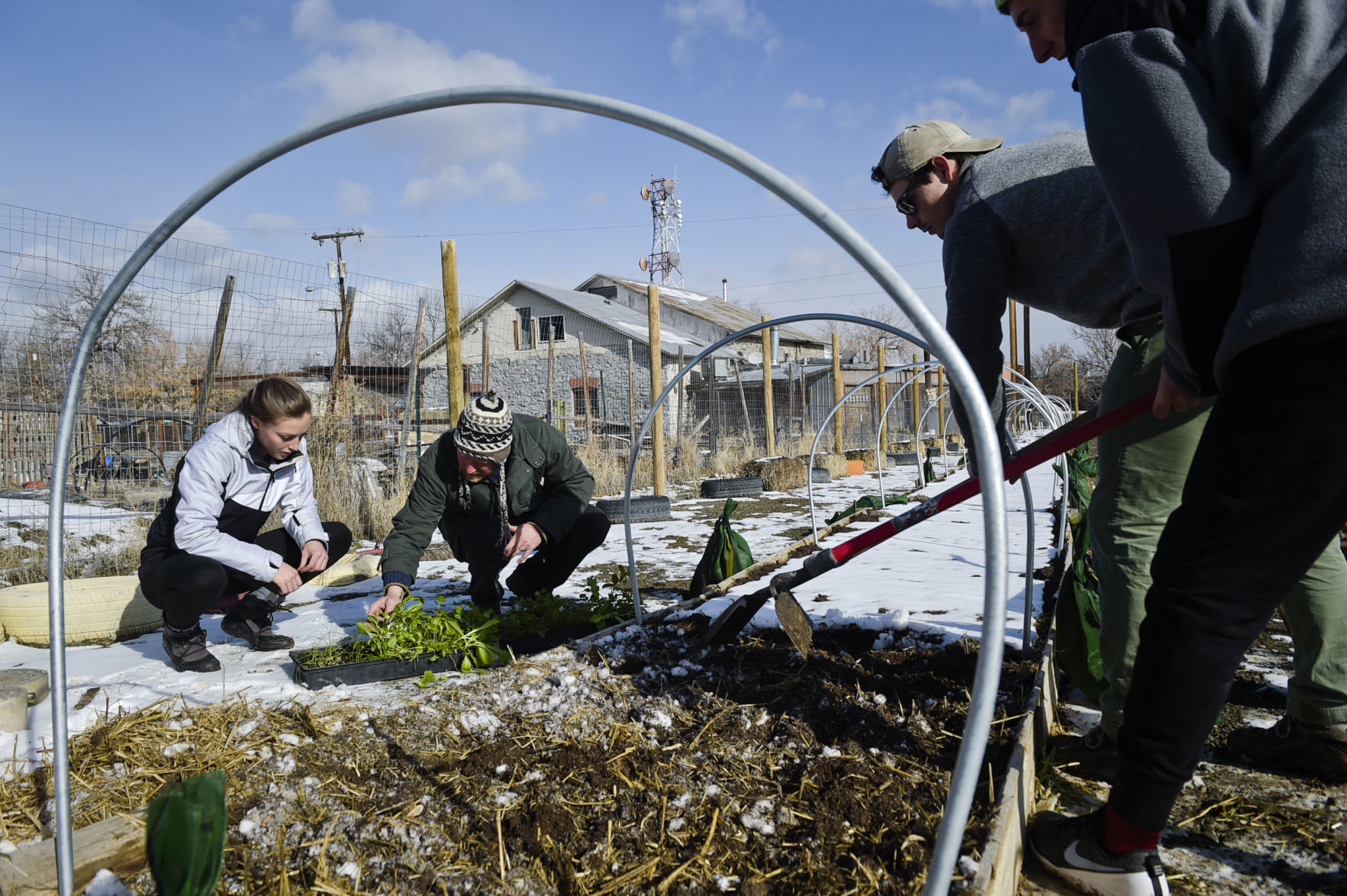 April 5, 2018 - Students at Carroll College started early-season planting at the Helena Food Share garden on Wednesday as part of a course to learn about nutrition, community health and growing in a tough climate.
It's the first year the Gardening and Community Health course has been offered by professor Gerald Schafer. The class is partnering with Shodair Children's Hospital and Helena Food Share with a goal to harvest and share some of the vegetables before the semester ends in early May. But Schafer said Helena's windy and dry climate and an unusually long winter have been challenging. Read more in the Helena Independent Record
Carroll Health Science Students Receive Alcohol Education Program of the Year Award
June 28, 2017
Health Science professor Kelly Parsley's PH333 class – Public Health Theories & Practice was awarded the 2017 Alcohol Education Summit Outstanding Community Program of the Year award from the Liquor Control Division of the Montana Department of Revenue. The award recognizes a community program that has helped to change the drinking culture in their community. The students' set out to seek an impactful solution to reducing alcohol related problems and assist in reducing some of the harm associated with college student drinking. Their efforts included a combination of assessing alcohol use, implementing educational strategies, and supporting community partnerships. Full Story
Working in Jamaica
"At the shelter, we led discussions on drugs and alcohol, sexually transmitted diseases, and oral health care. Kate and Heather led yoga classes there. We organized a run to raise money for the shelter, opened a day long health screening for those who were homeless, spent time doing physical assessments of the residents at the infirmary, and worked with the residents of the shelter to help them become self-sufficient. Amanda made a few resumes for the residents and with the goal of trying to get them jobs. In December 2015, Amanda Harrod, Heather Huguet, and Kate Graff had the opportunity to travel to Jamaica to work in the area of public health, focusing mainly at a homeless shelter in one of the poorest parishes in Jamaica.
"We also had educational lectures from the professionals in our group each night after working all day at the shelter. A few examples of the lectures included palliative care, motivational interviewing, and the rich history and culture of Jamaica. Additionally, the team from Carroll had two physicians, a psychiatrist, and an acupuncturist in the group.
"Even though it was difficult being away from home for the holidays, out trip was well worth the experience!"
Visionary Voice
Kelly Parsley, chair of the Carroll Department of Health Sciences, was awarded the Visionary Voice Award by the National Sexual Violence Resource Center (NSVRC).
NSVRC offers the Visionary Voice award, in conjunction with Sexual Assault Awareness Month each April, to recognize the creativity and hard work of individuals around the country who have demonstrated outstanding work to end sexual violence.
Kelly has been a victim advocate for the past eighteen years. She was invited to serve on the NSVRC Board and served as their Chair for four years. In 2006, she wrote the field guide that Montana law enforcement officers use to respond to sexual assault crimes, and in 2008 she completed the field guide law enforcement use to respond to domestic violence.
Think Tank on Sexual Violence Prevention
As a leader in her field, Parsley was also invited to participate in the Think Tank on Sexual Violence Prevention on College and University Campuses held May 5-6, 2015 in Atlanta, Georgia. The think tank is sponsored by the Centers for Disease Control and Prevention's Division of Violence Prevention and the American Public Health Association, and is in collaboration with the U.S. Departments of Education and Justice.
The meeting is designed to be a strategic convening of representatives from various sectors involved in preventing sexual violence on campuses. This meeting is a part of Not Alone: The First Report of the White House Task Force to Protect Students from Sexual Assault. This forum provides an opportunity for experts to share information and engage in critical dialogue essential for building a comprehensive approach to sexual violence prevention on college campuses.
"I was so honored to be selected for the think tank, and I am thrilled to be able to represent smaller schools that need violence prevention solutions just as much as the larger state schools around the nation," said Parsley.
Carroll Students Raise Money for Dental Health in Haiti
Giving back is more than a resume builder for Carroll College Senior and Health Sciences Major Christa Carter. Carter is Co-President of Carroll Outreach Team, a campus organization she's been part of for three years.
"Giving back is just a huge part of our life. I just want to show other people the importance of giving back. (COT is) just a club on campus that is for volunteering in the community and doing good throughout the world."
C.O.T. is partnering with the dental outreach team to put on the 6th annual "Hope for Haiti 5k". Read more and watch the video
Watershed Research
As a recipient of a $56,000 M.J. Murdock Charitable Trust grant, Dr. Jennifer Lowell and her students, rising juniors Sarah Ladd and Kurt Parker, were recently featured on NBC-KTVH and ABC Fox Montana-KFBB, discussing their project which examines whether high arsenic levels in the Upper Tenmile watershed, a mining-impacted watershed that supplies Helena with over 50% of its drinking water, can maintain and propagate reservoirs of antibiotic resistant bacteria and genes to downstream environments.