Dogs rule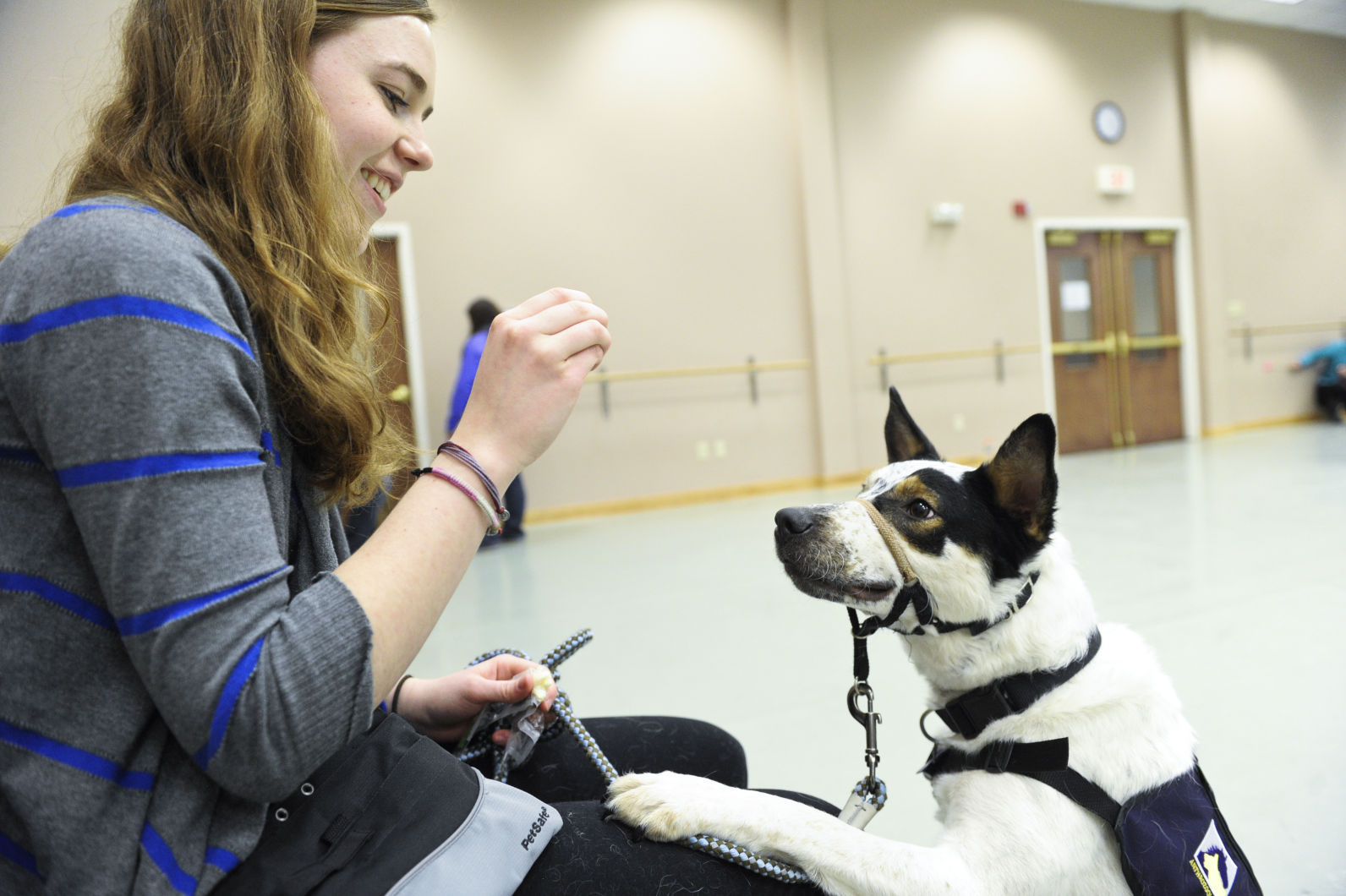 Article from the March 3, 2016 edition of the Helena Independent Record: Dogs rule: Animal expert argues canines initiated bond with humans.
"I think dogs picked us more than we picked them, at least initially," said Erica Feuerbacher, an assistant professor of anthrozoology at Carroll College. They were attracted to our refuse. "So there's a view ... that they selected themselves to be sociable with us."
Feuerbacher studies the bonds between animals and humans through her work at Carroll College's Anthrozoology program, the only such undergraduate program in the country. More
Wagemann '15 Recognized
In October 2015, Anthrozoology graduate Karin Wagemann '15 was recognized for her academic abilities, track record, work ethic, and knowledge base at the American Society of Canine Trainers conference in Bozeman. In recognition of these attributes, she was awarded a scholarship to complete her masters degree in canine behavioral science at London Hanover University in Great Britain.
Karin's goal is to train dogs for the FBI or National Park Service, but she is willing to work for any federal agency that needs a skilled dog trainer. While taking classes at London Hanover, she will apply to the federal government beginning next year. She is simultaneously working towards trainer certification through the American Society of Canine Trainers (ASCT). She hopes to become a master trainer and instructor certified through ASCT.
Karin shared the following about her experience at Carroll, "The most valuable aspect of the Anthrozoology program was being able to foster and train a dog. I never would've gotten that opportunity anywhere else."
Karin and Eowyn (photo right) were also featured on a special telecast by KXLH TV back in May about Carroll's Anthrozoology program titled: Carroll College Prepares to Graduate First Anthrozoology Class
Congratulations Karin! We look forward to seeing where your ANZ degree takes you in the future.
In the press
KBLL on the Radio
In October 2014, Dr. Anne Perkins and Dr. Erica Feuerbacher were interviewed by Jay Scott on the KBLL radio program Focus on Montana. Dr. Perkins and Dr. Feuerbacher stressed Carroll College's focus on training students to train dogs - not just training dogs. Listen
Dog Spies Blog
Check out this wonderful blog series by Julie Hecht on our own master trainer Tom Brownlee. The first part was bite work, the second part was narcotics detection and the most recent post was her service dog abilities! Julie also spoke on the Carroll campus in March 2011.
Raising Your Quality of Life
The Anthrozoology major at Carroll College is the first degree program of its kind in the nation. Can an animal raise the quality of your life? In the Yellowstone Public Radio program Home Ground, Dr. Anne Perkins explains how she initiated this exciting program, what the students learn, and what they can do with the degree.
Dr. Anne Perkins (WMA)
Dr. Anne Perkins (MP3)
Anthrozoology in practice
A degree in Anthrozoology can help you practically serve your community to bring healing and security through the help of animals. Check out the following article, Special dogs track allergens to keep kids safe.
Animals & the Elderly
Dr. Marie Suthers, professor of anthrozoology, was a recent presenter at the Governor's Conference on Aging and the Montana Gerontology Society Conference, Insights into Alzheimer's Disease: Lifespan Respite Care and Other Aging Resources and Supports.
Dr. Suthers session titled "Animals and the Elderly: The Human-Animal Relationships to Promote Successful Aging" looked at human health benefits of interaction with animals including physiological benefits such as reduction in cardiovascular disease risk factors and stress reduction, psychological benefits, social benefits and facilitation of healthy activities. Animal assisted interventions were discussed including the positive effects of therapy animals for Alzheimer's patients and benefits for caregivers. In addition, she introduced the concept of fish aquariums to sooth Alzheimer's patients, increase food intake, and improve staff morale.
TEDx Talks with Dr. Megan Parker
This TED Talk was given by one of our colleagues and great friends of the program, Working Dogs for Conservation co-founder Dr. Megan Parker. In this video, she talks at length about one of our graduate program dogs, Ruger, who is now working with South Luangwa Conservation Society and the Zambia Wildlife Authority sniffing out ivory, guns and ammunition. Carroll College graduates McKenzie Homan and Molly Rowland currently work for WD4C.