Subscribe to the ISAZ Quarterly Newsletter
Subscribe to the International Society for Anthrozoology (ISAZ) Quarterly Newsletter! The inaugural edition was released in October 2017 - get updates on the latest happenings, resources, and news in Anthrozoology.
Anthrozoology studies how to reduce stress in shelter dogs
Research shows that shelter dogs who are fostered in a home even for just one evening can experience reduced stress levels. The Carroll College anthrozoology program continued that research thanks to a recent grant.
Animal shelters continue to face a major issue: finding a way to relieve the stress in their dogs. Shelters can be noisy with a lot of activity. With the anthrozoology program receiving $40,000 they were able to look at the effects of temporarily fostering an animal and how it can limit stress. Read more
Dogs rule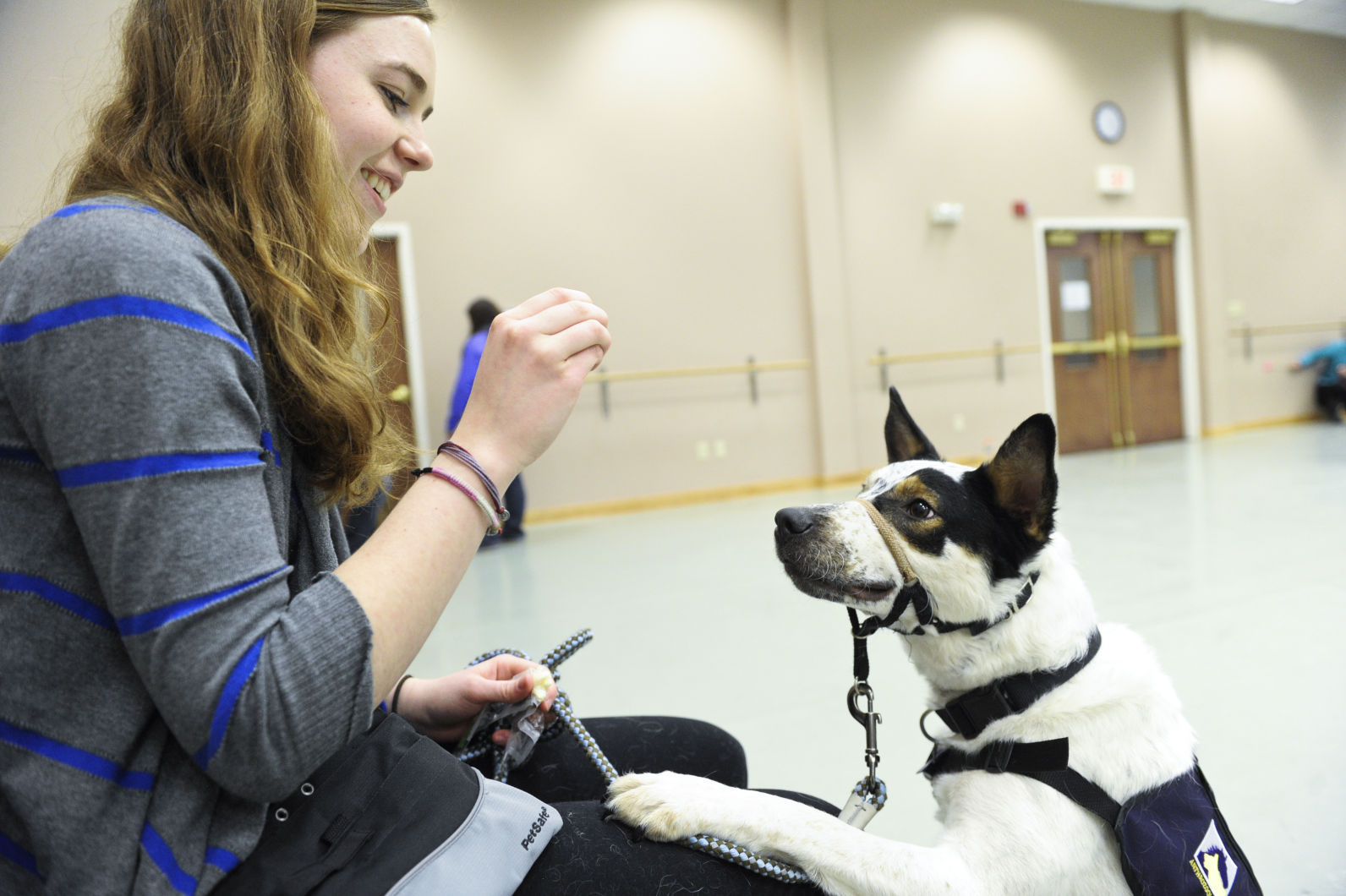 Article from the March 3, 2016 edition of the Helena Independent Record: Dogs rule: Animal expert argues canines initiated bond with humans.
"I think dogs picked us more than we picked them, at least initially," said Erica Feuerbacher, an assistant professor of anthrozoology at Carroll College. They were attracted to our refuse. "So there's a view ... that they selected themselves to be sociable with us."
Feuerbacher studies the bonds between animals and humans through her work at Carroll College's Anthrozoology program, the only such undergraduate program in the country. More
Anthrozoology in the press
KBLL on the Radio
In October 2014, Dr. Anne Perkins and Dr. Erica Feuerbacher were interviewed by Jay Scott on the KBLL radio program Focus on Montana. Dr. Perkins and Dr. Feuerbacher stressed Carroll College's focus on training students to train dogs - not just training dogs.
Dog Spies Blog
Check out this wonderful blog series by Julie Hecht on our own master trainer Tom Brownlee. The first part was bite work, the second part was narcotics detection and the most recent post was her service dog abilities! Julie also spoke on the Carroll campus in March 2011.
Raising Your Quality of Life
The Anthrozoology major at Carroll College is the first degree program of its kind in the nation. Can an animal raise the quality of your life? In the Yellowstone Public Radio program Home Ground, Dr. Anne Perkins explains how she initiated this exciting program, what the students learn, and what they can do with the degree.
Dr. Anne Perkins (WMA)
Dr. Anne Perkins (MP3)
Anthrozoology in practice
A degree in Anthrozoology can help you practically serve your community to bring healing and security through the help of animals. 
Animals & the Elderly
Dr. Marie Suthers, professor of anthrozoology, was a recent presenter at the Governor's Conference on Aging and the Montana Gerontology Society Conference, Insights into Alzheimer's Disease: Lifespan Respite Care and Other Aging Resources and Supports.
Dr. Suthers session titled "Animals and the Elderly: The Human-Animal Relationships to Promote Successful Aging" looked at human health benefits of interaction with animals including physiological benefits such as reduction in cardiovascular disease risk factors and stress reduction, psychological benefits, social benefits and facilitation of healthy activities. Animal assisted interventions were discussed including the positive effects of therapy animals for Alzheimer's patients and benefits for caregivers. In addition, she introduced the concept of fish aquariums to sooth Alzheimer's patients, increase food intake, and improve staff morale.
TEDx Talks with Dr. Megan Parker
This TED Talk was given by one of our colleagues and great friends of the program, Working Dogs for Conservation co-founder Dr. Megan Parker. In this video, she talks at length about one of our graduate program dogs, Ruger, who is now working with South Luangwa Conservation Society and the Zambia Wildlife Authority sniffing out ivory, guns and ammunition. Carroll College graduates McKenzie Homan and Molly Rowland currently work for WD4C.