So many jobs in Anthrozoology right now!
Busch Gardens in Tampa, FL is looking for an animal care specialist; apply and more info here.
Purdue's Center for the Human-Animal Bond is looking to hire a laboratory manager; apply and more info here.
Are you still in Helena? Youth Dynamics is looking for a mentor! View the jobs available at Youth Dynamics here.
Job Opportunity!
New job for alums! Herriman, Utah is searching for an animal services tech! For more info, visit this link!
Job Opportunity!
Exciting new job opportunity for an anthrozoology graduate! The Milwaukee County Zoo is looking for a zookeeper! Apply at this link!
Carroll ANZ Students Present at SURF!
This year, we are delighted to announce that six of our Anthrozoology students, each mentored by our own Professor Molly Sumridge, are presenting at SURF--Student Undergrad Research Festival! Following are the abstracts for each student paper, along with a link to see the digital presentation!
The Donkey Problem: A Review Of Donkey History and Research As It Relates to Their Use In Donkey Assisted Therapy, by Sara Jane Melancon
The current research body on Equus asinus is lacking in all areas which is a significant disservice to the donkey as a species. Despite the lack of research donkeys continue to be used for a variety of tasks, which include therapeutic purposes. Before the ethics of using donkeys in therapy can be assessed to the degree it deserves, a proper body of research on the donkey species must be available. Donkeys have been utilized extensively throughout human history and this history informs why current donkey literature is lacking. This study is a literature analysis examining current research on donkey history, physical and mental health, donkey assisted therapy, and ethics. Each area is examined to understand what future research should be conducted to inform the welfare of the donkey generally, and even more extensively as it relates to donkey assisted therapy. The analysis of literature attempts to determine what research should be conducted before considering donkeys for use in therapy. While the donkey is the focus of this research, some ethical considerations for humans are also explored in an attempt to completely address the need for research on donkeys through the lens of donkey assisted therapy.
Watch Sara Jane's presentation here
Gender Expression In the Furry Community, by Victoria Gersdorf
We investigated how furries, which are people who enjoy anthropomorphized depictions of animals in art and other media express their genders both as people and through their fursonas and how the furry fandom (and by extension), having a fursona may provide a creative outlet for expressing oneself, especially in the realm of gender. After receiving Carroll College IRB approval on October 15th, 2020, we then conducted two different experiments. The first involved the observation of 500 different public profiles on the website frequented and created by furries called FurAffinity. The second was a survey posted to an online furry Facebook group for members of the group to answer questions about their gender identity and their fursona's gender identity, gender roles, and expression, which received 16 usable responses. The results of the FurAffinity profile observations found that only a small number (172 out of 500 observed profiles or 0.344 or 34.4%) had fursonas that did not match the profile owner's gender. Due to the low number of participants in the survey, the quantitative results are not statistically significant enough, nor representative of the members of the Facebook group nor the fandom at large. Nonetheless, the data combined from both the FurAffinity profile observations and the furry Facebook group revealed that there levels of gender expression creativity in the furry community not otherwise seen among people offline, something to be further explored in future studies.
Watch Victoria's presentation here
The Effect of Cat Training on the Human-Cat Bond, by Beth Grabowski
Cats often get categorized as untrainable due to their reputation for being unreceptive to human interaction. However, despite their independent nature, cats are not exempt from the ability to interact and communicate with humans. Training, at its core, is creating communication between the human and the non-human animal. That communication is key in creating a strong bond between human and cat as well as navigating disruptions in the home. As such both the humans and cats befit from a training relationship. The benefits for the human include increased ability to read their cat's body language, and an increased ability to direct their cat from disruptive behaviors. The cat will benefit from increased enrichment and confidence. I will demonstrate these benefits using data collected from cat trainers here at Carroll College. I will then discuss ways for training to be used in American households to increase the welfare of the cats and decrease relinquishment of cats to shelters.
Watch Beth's presentation here
Helping Hoofs: How do Miniature Horses Compare to Dogs for Service Work, by Anna Streit
Service or assistance animals are widely used to assist people with disabilities to live more independently and to give them greater freedom. The species that the general public typically imagines when thinking of service animals are canines. The dog is a widely DIGITAL STUDENT UNDERGRADUATE RESEARCH FESTIVAL SURF 2021 Presentations known and accepted option for a service animal, but they are not the only option. Federal law also acknowledges miniature horses as the only other species protected as service animals. During the past academic year, I have been working with a miniature horse to learn more about the training of a miniature horse for service tasks. My goal is to create a guide for others who want to train a miniature horse for service work as well as to educate the public about these incredible animals. In order to better understand the differences between service dogs and service horses I have been working with an ANZ program dog to train service tasks this semester. A greater understanding of the differences and similarities in the training of these two species will be helpful for those who want to train service horses either for personal use or as a career.
Watch Anna's presentation here
Dog Training Electronically, by Shelbie Wilcox
There has been a lot of recent research that has studied the effectiveness of e-collars compared to positive reinforcement, as well as their effects on the welfare of the dog. Many studies have shown e-collars to be no more effective at improving behavioral issues than when using positive reinforcement. Other studies have looked at the physiological effects that the training methods had on the dog and they found that the positive reinforcement techniques showed less stress in the dog than the negative reinforcement techniques, which means that negative reinforcement techniques could potentially be worse for their welfare. Being that there is so much research on the potential negative effects of using e-collars, my research aims to find out why owners, in their own words, still use them and if they think it has negatively affected their relationship with their dog or not. Therefore, through gaining an understanding of what influences an owner's choice, hopefully we can have a better understanding of the human-canine relationship and how training methods play a role in it.
Watch Shelbie's presentation here.
Access to Veterinary Care for Low-Income Populations, by Gwyneth Lyman
Animal companions are essential for the emotional, physical, and social benefits of a wide range of different people. Pets provide humans with a non-judgemental companion and in return, humans provide for and nurture their animals. However, care for a companion animal can be nearly unattainable without a comfortable income. In low-income populations accessible veterinary care that is affordable can be lacking. There needs to be support systems in place that address the welfare of low-income humans and their animals. Through qualitative analysis of interviews with veterinarians, I examine existing systems that provide support for impoverished pet owners to determine the best practices to better serve low-income populations.
Watch Gwyneth's presentation here
Dr. Suthers is Keynote Speaker at Healing with Horses
Staying quite busy over her sabbatical, professor and chair of the Anthrozoology department, Dr. Marie Suthers is the closing all-conference speaker for the Healing with Horse Online Symposium, an international symposium for "equine facilitators and others wishing to team with horses to aid in experiential learning and coaching in horsemanship, mounted or unmounted work, therapy, healing, and spiritual enrichment." The symposium runs Thursday - Sunday, April 22 - 25 (April 23 - 26 in Aus/NZ).

On Sunday, April 25 (and Monday for the AUS/NZ audience), Dr. Suthers will facilitate an interactive all-conference forum to discuss what college and other training programs that seek to support the growth of Equine Assisted Services (EAS) into a career industry need to know to provide the best training and education for students.

View Dr. Suthers' intro presentation here: https://www.healingwithhorse.org/employees/marie-suthers-dvm/.

There is still time to register for the online symposium at http://mariedvm.HealingwithHorse.zaxaa.com/s/14411273558991.
Published Anthrozoology Works
Congratulations to new Anthrozoology faculty member, Dr. Margo DeMello on having two new books published this year. One is the second edition of one of her textbooks, Animals and Society: An Introduction to Human-Animal Studies, and the other is a new encyclopedia called On the Job: An Encyclopedia of Unique Occupations around the World.

Dr. DeMello is an internationally known leader in Anthrozoology, having helped to build the field through her work as the first program director of Human-Animal Studies at the Animals & Society Institute, and through the publication of the very first textbook in the field, the first edition of Animals and Society: An Introduction to Human-Animal Studies. Prior to Carroll, she taught in the Anthrozoology Masters program at Canisius College for seven years.
Animal Care Job in Illinois!
The Animal Express in Poplar, IL is looking to hire an Animal Educator and Petting Zoo Attendant. You can find out more here!
Two new Animal Care Jobs!
The Animal Defense League of Texas is seeking a new Pet Adoption Counselor. Find more here! And the St. Louis Aquarium is looking to hire a new Animal Care Manager. Find out more here!
Terrific Job Opportunity here in Montana!
Job seekers! Working Dogs for Conservation is hiring!
They are seeking two Canine Field Specialists, who are the people who travel extensively handling conservation detection dogs on field projects as well as being an integral part of the organization's dog care and training team when not in the field. They are also seeking a Canine Team Training Coordinator to orchestrate dog/handler team training in detection, tracking, obedience, and behavior modification.
All positions are based out of Missoula, Montana. Please find out more by clicking this link! .
Environmental Educator Job!
The Hudson Highlands Nature Museum in Cornwall, NY is hiring an animal caretaker/environmental educator! Find out more here!
Work for Disney!
Disney's Animal Kingdom is looking for applicants for an Animal Keeper position on the Ituri Forest team. You will work with a large team of 24+ keepers to perform the daily care of the collection(s) and other animals following established guidelines. You will also have a practical understanding of antelope and/or pachyderm general husbandry, enrichment, and operant conditioning as it relates to the daily management and research of the species in their care. Find out more here.
Want to work at an animal sanctuary?
Barn Sanctuary is seeking a new shelter director to manage our sanctuary operations. The Shelter Director will play an integral leadership role on the Barn Sanctuary team. The Shelter Director must be an experienced manager and animal care provider. Duties include managing the operations of our shelter team (supervising 3 full-time caregivers and our facilities staff). The Shelter Director will oversee our animal care and rescue programs and ensure quality, life-long care for the 120 animal rescues at Barn Sanctuary. Find out more here.
Wildlife Sanctuary Hiring!
The Animal Ark Wildlife Sanctuary, in Reno, NV, is looking to hire a supervisor. Find out more here!
Another Great Job Opportunity!
The Great Lakes Aquarium in Duluth, MN, is looking to hire an animal care technician. You can read all about it here!
Exciting Job Opportunity!
Johnson and Wales University (in MA) is seeking an Equine Center Operations Manager. The new manager will manage the horse herd including coordination of processes regarding horse donation, trials and retirement; collaborate with vets regarding any restrictions horses may have to lab, team or class work; and more. For info and to apply, visit this link.
Fundraise for Lewis & Clark!
It's time to help our friends at Lewis & Clark Humane Society! Please consider joining Team Cat or Team Dog to help raise funds for our local humane society! Find out more here!
Job Opportunity!
Love horses? Go to Massachusetts to manage the operations of an equine center! Find out more here.
Job Opportunity!
The 4-H Youth Development Agent is a professional educator who provides leadership to the local 4-H program and manages its day-to-day operation. 4-H is a community of young people learning leadership, citizenship, and life skills. The mission of 4-H is to develop youth, and adults working with those youth, to realize their full potential and become effective, contributing citizens. This is achieved through the development and delivery of research-based, non-formal, hands-on educational experiences. Find out more here!
The Fall 2020 Semester Comes to an End
This week our students take their finals and head home for the holidays, ending one of Carroll College's strangest semesters. But we made it and our deeply proud of our students through powering through this very unusual time.
ANZ Student Alex Karbowicz Creates Photo Story about ANZ Program Dog Bowser
Carroll College's photography students have produced some beautiful images capturing life on the Carroll Campus during a pandemic. One student, Alex Karbowicz, created a lovely photo story about one of our program dogs, Bowser, and his first few months on campus. Check it out here!
Carroll College's Anthrozoology Program Welcomes New Faculty Member
The Anthrozoology Department at Carroll College is excited to announce the appointment of our newest Assistant Professor, Dr. Margo DeMello. Read about her at this link!
A New Course in Anthrozoology Lets Students Learn About Human and Animal Interactions
North Dakota State University students have the opportunity to earn general education credits and deepen their understanding of animals each spring by taking an Introduction to Anthrozoology course. Find out more
Carroll Breaking Ground With New Perkins Call Canine Center
Carroll College is pleased to announce the groundbreaking for the Perkins Call Canine Center, which will house the rapidly-expanding anthrozoology (ANZ) program and provide state-of-the-art facilities for canine research and training. Find out more
First working service dog graduates from Carroll's Anthrozoology program
The first working service dog to graduate Carroll College's Anthrozoology program has met his veteran. Not only is it the first time the program has graduated a working service dog, it's also the first time the Veterans Treatment Court in Great Falls has matched a veteran with a dog. Please read more.
21 dogs graduate from Carroll's anthrozoology program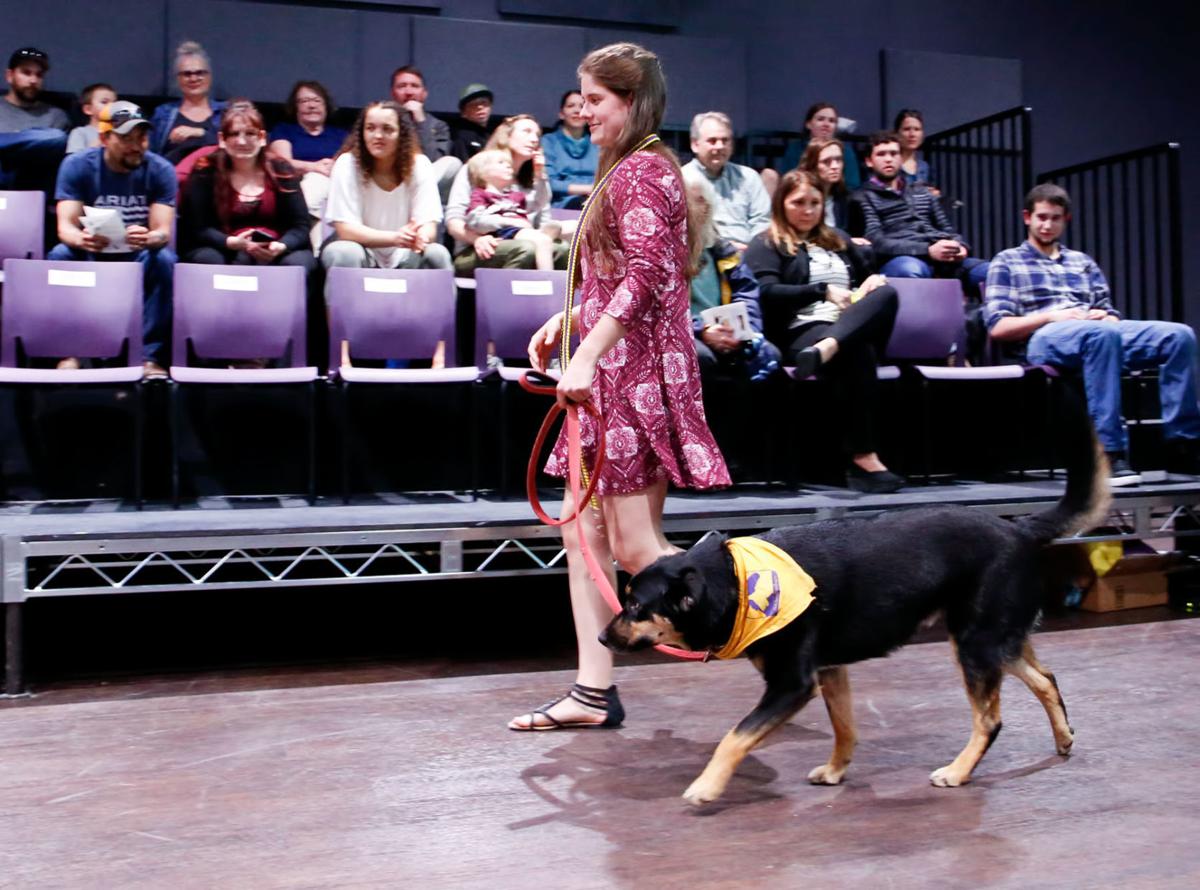 Carroll College graduated 21 of its furriest students Tuesday evening when the dogs of the anthrozoology program were presented to the public.
Deyanira Villalta, director of the college's canine center, said 16 of the dogs are from the advanced canine training class and soon will be going to their adoptive forever homes. Four of the dogs are part of the specialized canine training and were spoken for by the beginning of their training. Read more
Carroll College Anthrozoology students training a service dog to help veteran
Two Carroll College seniors in the Anthrozoology program are doing something that hasn't been done there before: they're fully training a service dog that will go to a veteran with PTSD. "Yes, good boy!!" 10-month-old Major gets plenty of love and attention from trainer Ali Hance as he completes a task. He's showing just one of the many skills he's learning in order to become a service dog. In this case, he's learning that a face in the hands, or a bouncing knee, indicate he needs to intervene. "With Major, we're training these tasks for this veteran. It's going to change his life," says Hance. It's the first time Carroll's Anthrozoology program will train a dog that will be in service. Read more
Carroll's Anthrozoology Program Receives $1,250,000 Gift
Whitney Call, a 2008 Carroll College graduate, and her family have committed $1,250,000 through the FJM Impact Fund to the college's popular Anthrozoology program. The Calls' gift will support construction of a new building, the Perkins Call Canine Center, and partial compensation for a Center director for five years. The Center will house Anthrozoology faculty in canine, equine, and wild animal disciplines and provide space for classroom instruction, research, veterinary examinations, canine training, and human-animal bond activities open to the public. Read more
Carroll Anthrozoology program hosts canine graduation
The graduations have already started for a special group at Carroll College. On (April 25, 2018), students in the Anthrozoology program walked their four-legged friends on stage for a graduation ceremony after completing training to become service animals, narcotics dogs and search and rescue animals. Now that the dogs have graduated, they're ready to move on and will be adopted. Some will become regular pets and others will go on to do what they were trained for.
For military veterans suffering from PTSD, are service dogs good therapy?
Research is underway to determine how effective service dogs are in easing symptoms for veterans with post-traumatic stress disorder. Although the VA does not cover veterinary care for PTSD service dogs, pointing to a lack of empirical evidence on their benefits, it is conducting a multiyear study to generate more data. Read The Washington Post Article
Anthrozoology in the press
Anthrozoology studies how to reduce stress in shelter dogs
Anthrozoology program studies how to reduce stress in shelter dogs
Carroll College Prepares to Graduate First Anthrozoology Class
KXLH-CBS Helena: Carroll College prepares to graduate first anthrozoology class
Dog Spies Blog
Check out this wonderful blog series by Julie Hecht on our own master trainer Tom Brownlee. The first part is bite work, the second part was narcotics detection and the most recent post was her service dog abilities! Julie also spoke on the Carroll campus in March 2011.
Raising Your Quality of Life
The Anthrozoology major at Carroll College is the first-degree program of its kind in the nation. Can an animal raise the quality of your life? In the Yellowstone Public Radio program Home Ground, Dr. Anne Perkins explains how she initiated this exciting program, what the students learn, and what they can do with the degree.
Dr. Anne Perkins (WMA)
Dr. Anne Perkins (MP3)
Animals & the Elderly
Dr. Marie Suthers, professor of anthrozoology, was a recent presenter at the Governor's Conference on Aging and the Montana Gerontology Society Conference, Insights into Alzheimer's Disease: Lifespan Respite Care and Other Aging Resources and Supports.
Dr. Suthers session titled "Animals and the Elderly: The Human-Animal Relationships to Promote Successful Aging" looked at human health benefits of interaction with animals including physiological benefits such as the reduction in cardiovascular disease risk factors and stress reduction, psychological benefits, social benefits and facilitation of healthy activities. Animal-assisted interventions were discussed including the positive effects of therapy animals for Alzheimer's patients and benefits for caregivers. In addition, she introduced the concept of fish aquariums to soothe Alzheimer's patients, increase food intake, and improve staff morale.
TEDx Talks with Dr. Megan Parker
This TED Talk was given by one of our colleagues and great friends of the program, Working Dogs for Conservation co-founder Dr. Megan Parker. In this video, she talks at length about one of our graduate program dogs, Ruger, who is now working with South Luangwa Conservation Society and the Zambia Wildlife Authority sniffing out ivory, guns, and ammunition. Carroll College graduates McKenzie Homan and Molly Rowland currently work for WD4C.