A New Course in Anthrozoology Lets Students Learn About Human and Animal Interactions
North Dakota State University students have the opportunity to earn general education credits and deepen their understanding of animals each spring by taking an Introduction to Anthrozoology course. Find out more
Carroll Breaking Ground With New Perkins Call Canine Center
Carroll College is pleased to announce the groundbreaking for the Perkins Call Canine Center, which will house the rapidly-expanding anthrozoology (ANZ) program and provide state-of-the-art facilities for canine research and training. Find out more
First working service dog graduates from Carroll's Anthrozoology program
HELENA – The first working service dog to graduate Carroll College's Anthrozoology program has met his veteran.
Not only is it the first time the program has graduated a working service dog, it's also the first time the Veterans Treatment Court in Great Falls has matched a veteran with a dog. Please read more.
21 dogs graduate from Carroll's anthrozoology program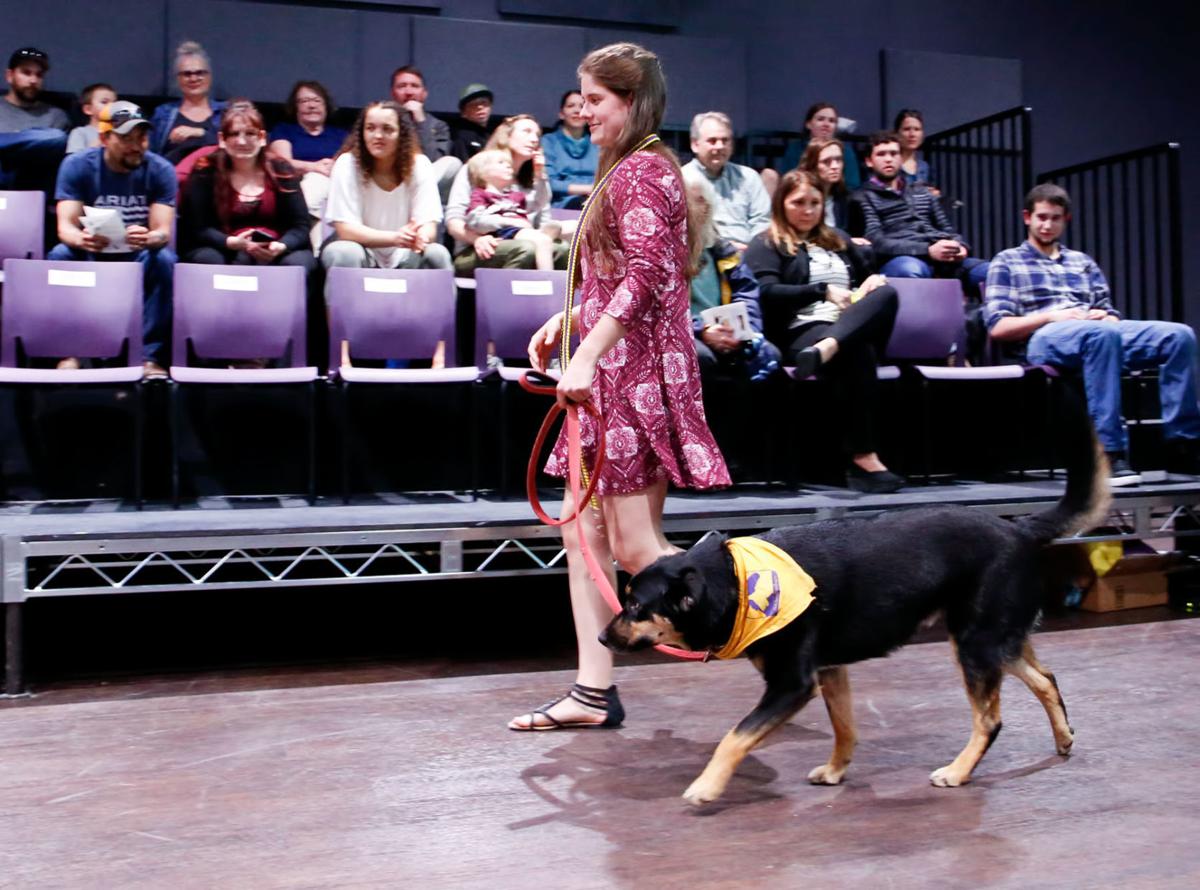 Carroll College graduated 21 of its furriest students Tuesday evening when the dogs of the anthrozoology program were presented to the public.
Deyanira Villalta, director of the college's canine center, said 16 of the dogs are from the advanced canine training class and soon will be going to their adoptive forever homes. Four of the dogs are part of the specialized canine training and were spoken for by the beginning of their training. Read more
Carroll College Anthrozoology students training a service dog to help veteran
Two Carroll College seniors in the Anthrozoology program are doing something that hasn't been done there before: they're fully training a service dog that will go to a veteran with PTSD. "Yes, good boy!!" 10-month-old Major gets plenty of love and attention from trainer Ali Hance as he completes a task. He's showing just one of the many skills he's learning in order to become a service dog. In this case, he's learning that a face in the hands, or a bouncing knee, indicate he needs to intervene. "With Major, we're training these tasks for this veteran. It's going to change his life," says Hance. It's the first time Carroll's Anthrozoology program will train a dog that will be in service. Read more
Carroll's Anthrozoology Program Receives $1,250,000 Gift
Whitney Call, a 2008 Carroll College graduate, and her family have committed $1,250,000 through the FJM Impact Fund to the college's popular Anthrozoology program. The Calls' gift will support construction of a new building, the Perkins Call Canine Center, and partial compensation for a Center director for five years. The Center will house Anthrozoology faculty in canine, equine, and wild animal disciplines and provide space for classroom instruction, research, veterinary examinations, canine training, and human-animal bond activities open to the public. Read more
Carroll Anthrozoology program hosts canine graduation
The graduations have already started for a special group at Carroll College. On (April 25, 2018), students in the Anthrozoology program walked their four-legged friends on stage for a graduation ceremony after completing training to become service animals, narcotics dogs and search and rescue animals. Now that the dogs have graduated, they're ready to move on and will be adopted. Some will become regular pets and others will go on to do what they were trained for.
For military veterans suffering from PTSD, are service dogs good therapy?
Research is underway to determine how effective service dogs are in easing symptoms for veterans with post-traumatic stress disorder. Although the VA does not cover veterinary care for PTSD service dogs, pointing to a lack of empirical evidence on their benefits, it is conducting a multiyear study to generate more data. Read The Washington Post Article
Anthrozoology in the press
Anthrozoology studies how to reduce stress in shelter dogs
Anthrozoology program studies how to reduce stress in shelter dogs
Carroll College Prepares to Graduate First Anthrozoology Class
KXLH-CBS Helena: Carroll College prepares to graduate first anthrozoology class
Dog Spies Blog
Check out this wonderful blog series by Julie Hecht on our own master trainer Tom Brownlee. The first part is bite work, the second part was narcotics detection and the most recent post was her service dog abilities! Julie also spoke on the Carroll campus in March 2011.
Raising Your Quality of Life
The Anthrozoology major at Carroll College is the first-degree program of its kind in the nation. Can an animal raise the quality of your life? In the Yellowstone Public Radio program Home Ground, Dr. Anne Perkins explains how she initiated this exciting program, what the students learn, and what they can do with the degree.
Dr. Anne Perkins (WMA)
Dr. Anne Perkins (MP3)
Animals & the Elderly
Dr. Marie Suthers, professor of anthrozoology, was a recent presenter at the Governor's Conference on Aging and the Montana Gerontology Society Conference, Insights into Alzheimer's Disease: Lifespan Respite Care and Other Aging Resources and Supports.
Dr. Suthers session titled "Animals and the Elderly: The Human-Animal Relationships to Promote Successful Aging" looked at human health benefits of interaction with animals including physiological benefits such as the reduction in cardiovascular disease risk factors and stress reduction, psychological benefits, social benefits and facilitation of healthy activities. Animal-assisted interventions were discussed including the positive effects of therapy animals for Alzheimer's patients and benefits for caregivers. In addition, she introduced the concept of fish aquariums to soothe Alzheimer's patients, increase food intake, and improve staff morale.
TEDx Talks with Dr. Megan Parker
This TED Talk was given by one of our colleagues and great friends of the program, Working Dogs for Conservation co-founder Dr. Megan Parker. In this video, she talks at length about one of our graduate program dogs, Ruger, who is now working with South Luangwa Conservation Society and the Zambia Wildlife Authority sniffing out ivory, guns, and ammunition. Carroll College graduates McKenzie Homan and Molly Rowland currently work for WD4C.