The inauguration of Thomas M. Evans
Sixteenth president of Carroll College
November 4–10, 2012
We are pleased to announce the inauguration of Thomas M. Evans as the sixteenth president of Carroll College. We welcome you to a week filled with inaugural events designed to introduce our new president and to honor the traditions and life of the college.
President Thomas M. Evans
On June 4, 2012, Thomas M. Evans became the sixteenth person in Carroll's 103-year history to hold the office of president. He came to Carroll from St. Edward's University in Austin, Texas, where he had served higher education for fifteen years. From 2008 to 2012 he worked as the university's associate vice president for professional education and global initiatives. President Evans led efforts at St. Edward's that significantly increased both the graduate student population and revenue from professional education programs. He also expanded the university's global presence, developing programs such as study abroad and joint and dual degrees in France, Chile and Japan.
President Evans holds a bachelor of science with a major in Japanese from Georgetown University in Washington, DC. He earned his master of arts in Asian studies and doctor of philosophy in educational administration from the University of Texas at Austin.
Inaugural Events
Saturday, November 3
Welcome by Student Life
Open to Carroll students, faculty and staff
Sunday, November 4
Inaugural Mass
By invitation only, limited seating, entrance pass required
Cathedral of St. Helena
A reception will follow in the Carroll College Campus Center.
Monday, November 5
8:30–11:30 a.m. Academic Symposium
Open to the public
How a liberal arts education translates to modern life—distinguished alumni discuss the impacts of their Carroll experience
Campus Center
2 p.m. Inaugural Ceremony
Open to the public
Physical Education Center
A reception will follow in the Campus Center.
Thursday, November 8
Carroll Literary Festival - The keynote talk caps off a day of literary festival readings by local authors, including Carroll students and professors. All literary festival readings are free and open to the public. The daytime schedule for Nov. 8 is as follows:
Noon to 1 p.m.: Short Works: Readings in fiction and poetry, upstairs in the Campus Center
1-5 p.m.: Concurrent Sessions: Fiction, poetry, and criticism, downstairs in the Campus Center. Three sessions are scheduled throughout the afternoon, lasting approximately one hour each, with two panel discussions per session.
5-6 p.m.: Faculty panel discussion, "Different Angles on the Apocalypse," with Carroll professors Brian Matz (theology), Loren Graham (literature) and Kelly Cline (math and astronomy), downstairs in the Campus Center.
7:30 p.m. Keynote speaker: Paula Marks, PhD, historian of the American West
Trinity Hall Lounge
This is Carroll College's ninth annual Literary Festival, an event organized by senior Carroll students as part of their capstone experience. Open to the public
Friday, November 9
Welcome by Faculty and Staff
Open to faculty and staff
Saturday, November 10
9 a.m. Community Mass at the Grotto
Open to the public
10 a.m. Fighting Saints Tailgate
Open to the public
A party for the Carroll family, neighbors and friends before the Saints take on the Dickinson State Blue Hawks.
Outside Nelson Stadium, southwest end
Inaugration Ceremony Highlights
Carroll College's new president shares his vision in a global, digital world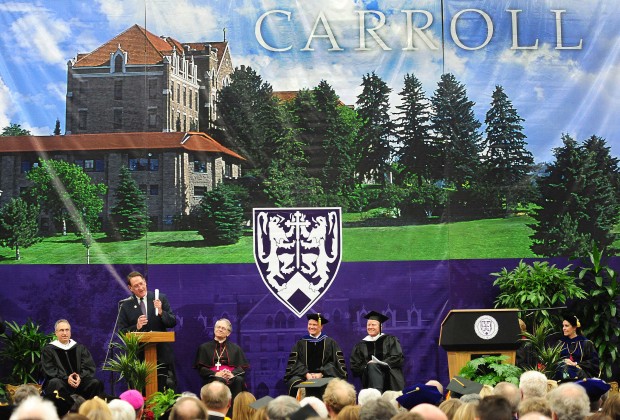 By Marga Lincoln, Helena IR
Carroll College's roots as a liberal arts college in what was once a Wild West boomtown and its future challenges in an ever-changing global and digital age were a main focus of new Carroll president Thomas Evans' inaugural speech Monday.
Evans, 42, who was appointed the college's 16th president in December 2011, arrived at Carroll in June and accepted the chain and medallion of office and its symbolic mace in an inaugural ceremony at the Carroll College Physical Education Center, at an event attended by some 800 Carroll and community members. Read more of this story »