Enactus
Enactus Mission
We are a community of student, academic and business leaders committed to using the power of entrepreneurial action to transform lives and shape a better, more sustainable world. Enactus students leverage their classroom experience, the expertise of their faculty advisor and business advisory board, and the resources of their university to develop projects that empower people to live better lives.

Their projects address a variety of topics, such as market economics, entrepreneurship, financial literacy, personal success skills, environmental sustainability and business ethics. Rather than mandating a uniform set of projects, teams are encouraged to work within the framework of these topics while adapting their approach to the diverse needs of people in different communities. They help aspiring entrepreneurs achieve success, equip the unemployed with skills to find productive employment, teach families how to gain financial security, and bring economic development to struggling neighborhoods.

The result is a program that is global in scope and purpose with the flexibility and responsiveness of a community-based organization.
en•act•us
A community of student, academic and business leaders committed to using the power of entrepreneurial action to transform lives and shape a better more sustainable world.
entrepreneurial—having the perspective to see an opportunity and the talent to create value from that opportunity;
action—the willingness to do something and the commitment to see it through even when the outcome is not guaranteed;
us—a group of people who see themselves connected in some important way; individuals that are part of a greater whole.
Our Values
Imagination
Every crisis creates opportunity, every struggle offers the chance to rediscover. Everything we do is born from the ability to see potential where others can't.
Courage
The willingness to try, fail and learn on the journey toward creating something new is just as critical as the passion to succeed. There is no substitute for being willing to lead—especially when the territory being covered is new and the outcome is uncertain.
Determination
Meaningful change is not easy. It requires the ability to overcome seemingly insurmountable obstacles and face often daunting challenges. We have the persistence to do what it takes to achieve the results we seek.
Partnership
There is no greater force for change than a team of people who are personally invested in each other, and in the lives of the people who their work is intended to serve.
Accountability
Every initiative or project we undertake will be judged by the only measure that matters: how effectively we create lasting and meaningful progress in the lives of those we serve.
Curiosity
We are passionate about seeking new perspectives and challenging long-standing assumptions because we know effective leadership requires continuous learning.
Seahawks, Food Share winners as Carroll Enactus collects donations
Story and photo by Al Knauber, Helena IR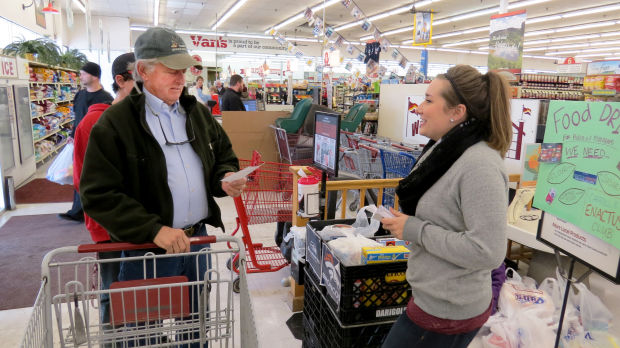 Shoppers at Van's Thriftway on Saturday made a little extra space in their grocery carts to help Helena Food Share.
Members of the Carroll College Enactus club were standing inside the store and handing out fliers asking people if they would like to donate groceries to help feed the hungry.
The club is a worldwide organization with chapters in 36 countries and 1,600 universities, according to its website, and aims to improve the quality of life and standard of living for people in need through entrepreneurial efforts.
The food drive is being held through assistance of Campbell's Soup Co., club members said. The drive is part of Let's CAN Hunger, a nationwide program by the soup company that provided up to 100 Enactus clubs with $300 each to help with the food collection effort.
Skidmore Helps Support Helena Food Share
For this Carroll College student going to class and completing assignments isn't enough. Junior Tyler Skidmore has been the president of the Enactus club at Carroll College for the past year dedicating his weekends to hosting food drives to support the Helena food share and its clients.
"It actually gets you out in the community, you're learning to write grants, kind of business skills that take your classroom education and apply it to the community." Read the story and watch the video