Secondary Education
Secondary Education at Carroll College
What to Expect
To be licensed to teach in secondary school in Montana (grades 5-12), a student must complete either a broadfield major or a major and a minor. Students interested in a broadfield major or a major and a minor should contact not only individuals within the elected department, but must seek additional counsel from an advisor within the Department of Education: Health, Physical, and Teacher. They must be accepted into the teacher education program.
Broadfield majors are:
Secondary education majors are:
Secondary education minors are:
Biology
Chemistry
French (K-12)
History
Physics
Psychology
Spanish (K-12)
Please see the Carroll Course Catalog for more information regarding our minors. Note: our two most popular minors for Secondary Education are Reading and Special Education.
During many of your student teaching placements, professors will coach you while you are in the classroom. You will spend over 600 hours in the classroom during your four years at Carroll. The professors within the department have diverse expertise and are involved in various endeavors that promote education. They are researchers and educators who share their insight and experiences in the classroom and in the field. They are here to help you succeed.
In Montana, students can receive a Class II Teaching Certificate (grades 5-12) by completing the following three requirements: (1) completion of a bachelor's degree; and (2) completion of an accredited professional educator preparation program in an area approved for endorsement in Montana; and (3) completion of a supervised teaching experience either as part of an accredited professional educator preparation program or one year of teaching experience in a state accredited elementary and/or secondary school district.
Teacher Development Portfolio: Collect
To access documents, right click and choose "Save Link As..."
Evaluation Forms
Life After Graduation
Teach in public or private schools
Develop strong teaching skills that would aid in any profession for which education and training is required
to choose carroll college for this program
Commitment to academic excellence
Small class size
Undergraduate research opportunities
Community Involvement
Faculty dedicated to students
Post-graduate success
The great outdoors is your backyard
Numerous study abroad opportunities
Opportunities for internships
Professors that know you personally
Celebration of Excellence: Carroll follows in math teacher's footsteps
By Eddie Gregg, Helena IR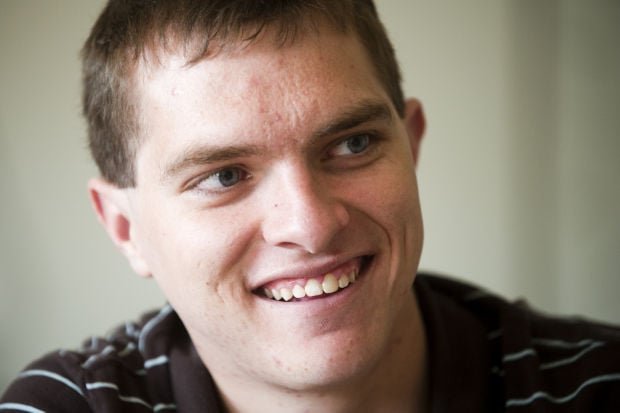 John Chart and Ryan Swenson are perfect examples of the people honored each year by the Helena Education Foundation during the organization's Celebration of Excellence banquet. Chart has been teaching math for 25 years, 17 of them at Capital High. Swenson, his former student, just graduated from Carroll College Saturday and will begin a career teaching math this fall in Rigby, Idaho.
They were both honored by the Helena Education Foundation in 2009, and Chart is being honored again this year as a Distinguished Educator.
Each year the Helena Education Foundation honors a small group of graduating seniors for their academic achievements and civic engagement, naming them Distinguished Scholars. Each student then names an educator who has been a particularly positive influence on his or her life and then that educator is also honored by HEF. The organization also honors a group of graduates as Distinguished Achievers; they are nominated by their teachers, who are also honored during the banquet, for various academic or extracurricular achievements or for overcoming obstacles as students. Read more of this story