Biology
Biology Program
The Biology Program combines access to modern equipment, newly renovated facilities, and faculty mentors in a program that emphasizes preparing students for careers in the biological and biomedical sciences. Whether using molecular techniques to decipher the inner workings of a disease pathogen or developing mathematical models to solve the mysteries of ecological processes, students will be exposed to the latest in biological methods and analysis. The program places a strong emphasis on investigative learning through laboratory experiences, field courses, and faculty/student collaborative research. In recent years students have participated in research projects ranging from molecular biology to ecology, in the laboratory and the field, and in locations as diverse as the Montana backcountry, Alaska, Niger, and Ecuador.
The Biology Program leads Carroll College in the production of student research projects and the number of honors graduates. Students publish regularly in peer-reviewed research journals and present their work at scientific meetings. Most importantly, the program has the reputation of preparing students for success in post graduate studies. In the past 10 years, 89 students have entered medical school, 30 have entered graduate programs, 26 have entered dental school and 42 have gained entry into other professional programs such as veterinary medicine, physical therapy, optometry and pharmacy.
Mission:
The Biology Program is designed for students who seek careers providing personal fulfillment and service to others. Its mission is to prepare graduates who are scientifically literate and who recognize both the practical usefulness and the inherent value of a liberal arts education.
Goals:
The Biology Program will produce graduates who:
Have the knowledge and skills needed for entry into graduate school, professional programs (medical, dental, and veterinary) or other discipline specific career opportunities.
Have the ability to work effectively with scientists and non-scientists on solutions to local, regional and global problems.
Are committed to open-minded inquiry and lifelong learning within and across multiple branches of knowledge.
What Students Are Saying
"There are numerous reasons why the biology program truly shines at Carroll, but I believe the primary reason is the amazing interaction that occurs
between the professor and student. The professors make it a priority to get to know each individual in the program and help them to succeed throughout not only their undergraduate education but into their graduate and professional career. The undergraduate research experience I received at Carroll not only solidified my career ambitions but also paved the way to my graduate career. It is truly remarkable the quality of education you receive from these outstanding professors whom often develop into lifelong friends." Meghan McKeown, Edmonds, WA, Class of 2011
"The biology program at Carroll College is exceptional in so many ways, but the one that continues to surprise me is how invested the teachers are in the students. When I was applying to graduate school, every person who interviewed me said that the enthusiastic letters of reference from my Carroll professors were the number one reason for my acceptance. Even now, five
years after my graduation, I still turn to them to review my papers before submission and read grants. I feel so lucky to have received a wonderful education from Carroll and to have their continued support as a scientist." Judith Simcox, Billings, MT, class of 2007.
"The Biology Program at Carroll taught me that learning occurs every moment of your life and that friends can be both professors and students.
The professors have the ability to establish a personal relationship with each of the students so as to establish an open forum for learning. A Biology graduate from Carroll has the essential skills and qualities to establish him/herself in any field of Biology." Andy Brown, Helena, MT, class of 2005.
"Carroll was not only the college I attended, but also my home for 4 years. It is a school where your professors are both your mentors and friends, where classmates work toward success together, and where you receive an education that more than adequately prepares you for your future profession. After having completed my first year of medical school, I realized even more the superior education provided by the Carroll biology program. In every class I felt prepared and many times already comfortable with the material. Thank you to all of my professors at Carroll." Jessica Davis, Edmonds, WA, class of 2005.
to choose carroll college for biology
Commitment to academic excellence
New equipment and facilities
Undergraduate research opportunities
Yellowstone National Park
Faculty dedicated to students
Post-graduate success
Glacier National Park
Numerous study abroad opportunities
Opportunities for internships
Pet rat if you take animal physiology
For Carroll graduate, faith, family and others come first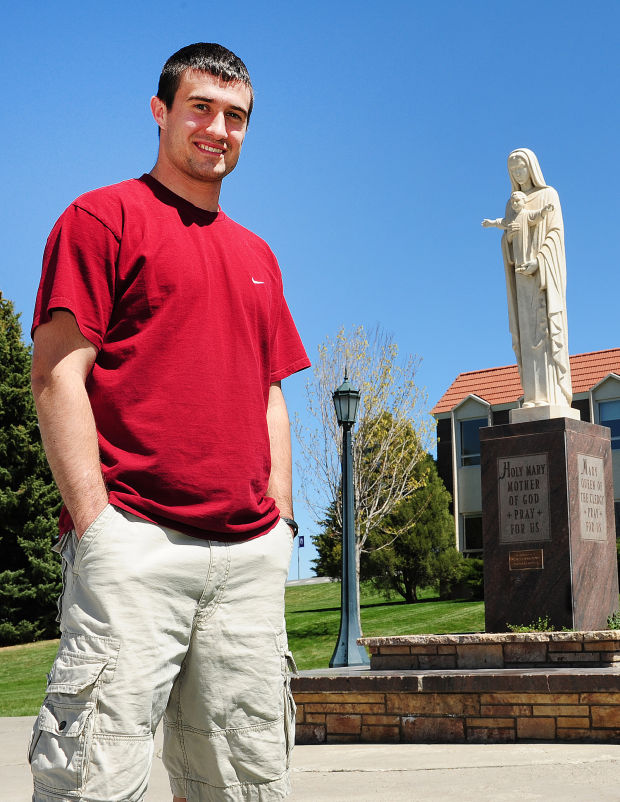 By Eddie Gregg, Helena IR
For Galen Mills, who graduated from Carroll with a bachelor's degree in biology, life is all about faith, family and focusing on others. Mills, who has played as safety for the Saints football team, has been accepted to medical school at the University of Washington. But he's putting that off for a year. He plans to stay in Helena through the rest of 2013 and then return to an orphanage called Casa Bernabe just outside Guatemala City, Guatemala, where he'll live and work for six months.
He's spent his last two spring breaks at the orphanage. In the mornings, he would sometimes work in the garden or do handyman work. In the afternoons, he would work with the kids after they got out of school and practice his Spanish. Read full story
WHAT CAN YOU DO WITH THIS DEGREE?
With advances in biotechnology and molecular biology along with challenges in the medical and environmental sciences, biology is widely regarded as the fastest growing scientific discipline and is positioned to dominate scientific career opportunities for the next century. A short list of career fields includes:
Agriculture
Animal Behavior
Aquatic Science
Bioinformatics
Biophysics
Biotechnology
Botany
Developmental Biology
Ecology
Endocrinology
Forensic Science
Genetics
Genomics
Horticulture
Immunology
Medicine (medical doctor, dentist, and other health professions)
Microbiology
Neuroscience
Parasitology
Physiology
Plant Pathology
Proteomics
Veterinary Medicine
Virology, and
Zoology.